3 Pacific Northwest Interior Design Ideas: Contemporary Style Made Easy
Posted by Jordan Matin on Tuesday, December 7, 2021 at 1:14 PM
By Jordan Matin / December 7, 2021
Comment
The Pacific Northwest is home to the city of Portland, the largest metropolis in Oregon. With nearly 300,000 households, Portland has a range of architectural styles, from Victorian to Dutch Colonial, Queen Anne Revival, and the classic Craftsman home. While the exterior may reflect a previous era, the interior design in Portland homes continues to evolve. Many Portland neighborhoods feature Northwest Contemporary architecture, and the Northwest Contemporary style is widespread throughout the city for decor and interior design.
The northwest contemporary style is a blend of elements that include clean lines and minimalist design while integrating natural materials, particularly wood. The style may feature asymmetrical arrangements, open and airy spaces, exposed beams, and traditional Native American patterns. Want ideas for decorating your home in this popular aesthetic? Read on for three major guidelines for Northwest Contemporary style decor.
Embrace the Natural Environment
The northwest contemporary style of design and decor brings the outdoors in, embracing nature and the environmental elements typically found in the Pacific Northwest. The top natural elements typically incorporated are water, stone, and wood.
Water is a defining element for the city of Portland. All residents live within the Columbia River basin, and nearly all homes are within the Willamette River watershed. Water features can be added to a Portland home in various ways. Consider stand-alone and wall sculptures with actual flowing water for a tranquil feel, or choose backsplash tiles in blues, greens, and greys to evoke a similar look.
Stone in decor and design has numerous possibilities. It's a good way to add texture to any room. Natural stone tiles in the entrance, kitchen, or bathroom add warmth, while a rough-hewn stone fireplace emphasizes the art of bringing the outdoors in. It could be possible to substitute stone-looking porcelain or matte ceramic tiles for natural stone if that's a preference.
Want to add a small touch? Create (or purchase from a local artisan) a wrapped stone/rock. Often set in jewelry, these unique pieces can be found in various sizes, shapes, and wrap designs. Display it on a shelf or table, or try incorporating it into a wind chime.
Wood typically is the most popular natural element used in the northwest contemporary style. With Portland home to one of the country's largest urban forests, why not embrace designs with wood elements? It has endless possibilities, but a few include:
Exposed beams, a common characteristic of Northwest Contemporary architecture
Tongue-and-groove ceilings
Live-edge furniture: shelves, tables, headboards, even cabinet fronts
Wood accents on sofas and chairs
Hardwood flooring
Bring In Some Industrial Aesthetic
Industrial design elements are usually easy to intermix with other styles, and they play an important role in the Northwest Contemporary look. Go big or go small when bringing this aesthetic into a Portland home. When renovating, adding an exposed brick wall, beams (of wood or steel), or aesthetically pleasing pipes and ducts can be a "wow" factor. However, there are many other ways to bring in some industrial aesthetics.
Look at materials like steel, metal, copper or bronze patina, and tin. Combine wood with metals and consider an overall color palette with dark browns, navy, silver, grey, and gold. Distressed leather also can be included in the industrial aesthetic, from accent pieces to a comfy chair nestled below a pendant light holding an Edison bulb.
Lighting elements are an integral component of industrial aesthetics. Over a center island, consider caged lighting or single Edison bulbs, depending on the space available. Industrial dome pendant lights in steel or copper can be eye-catching for larger areas. Wall sconces with pipe arm pivot points offer both style and function.
When considering industrial design elements to add to a Portland home, the small details can have a big impact. Look for things like rivets, hammered steel, and corrugated tin. A pipe and wood paper towel holder on the counter or Draftsman-style bar stools can add to the look as well. A bar cart that combines wood and metal elements plus industrial-style casters is a practical yet stylish addition to a living room or entertaining space.
Play with Patterns and Textures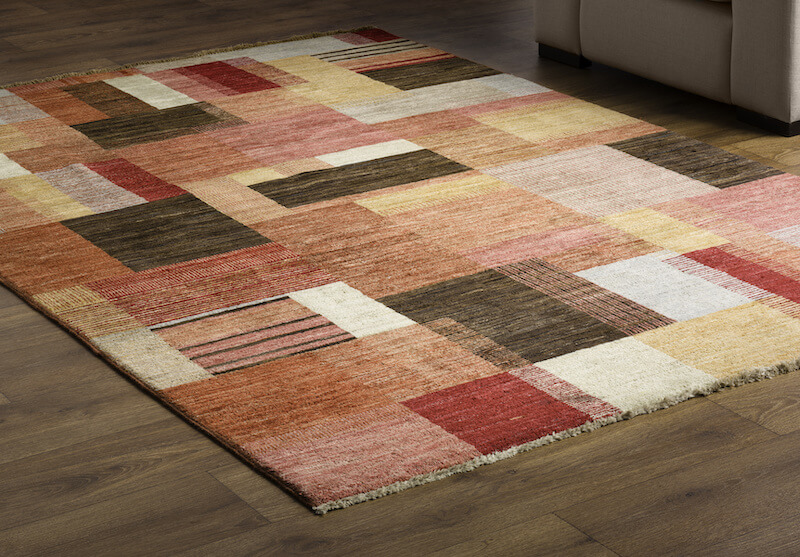 Patterns and textures add dimension to a design aesthetic, and when infusing a Portland home with a northwest contemporary look, these elements are key. Choose a neutral color palette and then add pops of color with coastal blues and forest greens. Contrast the industrial metals with textiles featuring geometric patterns inspired by the favored designs of the Native Americans of the region.
One easy way to add patterns and textures to a design aesthetic is to toss a wool blanket across a bed or sofa. Pendleton, an Oregon-based company whose designs are infused with local culture, is known for its wool blankets with distinctive patterns that add color and visual interest to any room. Look for twined baskets to display and to use for storage. This type of basketry typically features natural materials like tree bark and roots.
A faux fur throw or area rug adds a special touch over stone tile or hardwood flooring. Keep the space light and airy with filmy or gauze-like curtains that can float in the breeze when the window is open. Mix glass elements with unpolished stone or live edge wood, metals, and exposed brick.
Live plants not only bring nature indoors, but they're a beautiful way to add color and texture to a room. Ferns native to the Pacific Northwest are a great choice, but it's all about what suits the home owner's personal style and preference. To pay homage to a Portland site, the rose garden at Washington Park, consider an indoor rose plant. Miniature roses can flourish indoors and offer a light fragrance that may be enjoyed.
Be Inspired by the Northwest Contemporary Style
Every Portland home is unique to its owner, but the Northwest Contemporary style can be incorporated with any architectural design. The distinctive style effortlessly combines multiple facets, from nature to industrial elements and patterns inspired by the textile arts of the area's Native American tribes. It's a casual, sometimes rustic, and yet elegant style that can be woven throughout the Portland home.