15 Best Portland Neighborhoods: Where to Live in Portland
Posted by Alicia Smith on Monday, January 10, 2022 at 9:48 AM
By Alicia Smith / January 10, 2022
Comment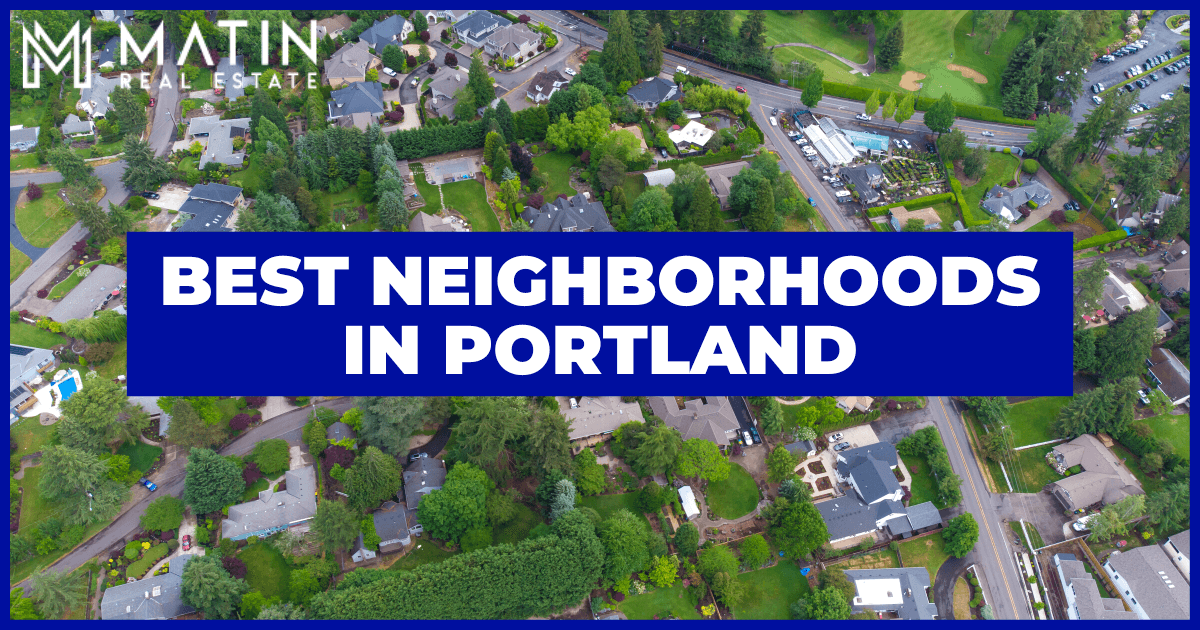 Welcome to the city of Portland—one of America's most unique and vibrant cities. From the high rises of downtown to the peaceful solitude of the city's many parks, there are so many great neighborhoods to explore. But for potential new residents, sorting through them all can seem a bit overwhelming. No matter what future homeowners are looking for, one of Portland's top neighborhoods can provide it. Keep reading to discover eight of the best neighborhoods in Portland, Oregon.
Pearl District
Pearl District Amenities
Vibrant art, dining, and nightlife scene
Close proximity to downtown, freeways, and transit
Multiple parks, including Jamison Square and The Fields Park
Variety of local and national brand shopping
What was once a cluster of warehouses and industrial buildings is now the heart of one of Portland's hottest neighborhoods. Located just north of downtown, the homes in Pearl District are roughly bounded by the Willamette River, NW Broadway, W Burnside Street, and Interstate 405. Within this area lies a food and art lover's paradise. Browse diverse works of art at spots like the Blue Sky Oregon Center For The Photographic Arts, one of the area's oldest galleries. Afterward, grab a bite at Thai restaurant Khao San or sandwich shop Break Bread before capping off the night with a drink at Deschutes Brewery's Portland Tap House. Getting around is also easy with several stops on Portland's light rail system.
The Pearl District's industrial and commercial heritage can be felt in its housing stock, which is primarily high-rise condominium buildings and lofts converted from warehouses. Buyers can usually find smaller one-bedroom, one-bathroom units in the low $300,000s. On the opposite end of the spectrum, three- to four-bedroom luxury penthouses, condos, or townhomes can sell for as much as the $5 million range. Most options sit somewhere between a half-million and just over one million dollars.
Boise
Boise Amenities
Dual commercial corridors on N Mississippi Avenue and N Williams Avenue
Close to Interstates 405 and 5 and Highway 99E for easy commuting
Denorval Unthank City Park
Legacy Emmanuel Medical Center
Another of Portland's neighborhoods that's seen a dramatic rebirth in recent decades, Boise is located on the eastern side of the Willamette between Interstate 5 and Highway 99E, south of N Skidmore Street. It traces its roots back to the 1800s but boomed throughout the early 20th century as a home for those working on railroads, in shipbuilding yards, or in local stores. The community is centered around Mississippi Avenue, home to many of Boise's shops, restaurants, and other unique businesses. These include the foodie favorite Gravy and live music at the locally renowned Mississippi Studios. It's also among Portland's most walkable neighborhoods yet still has easy access to interstates and highways for trips through and around Portland.
Boise real estate includes a mixture of small to medium multifamily buildings, townhouses, and single-family detached homes. Prices typically start in the mid-$400,000s and stretch into the high six figures. However, some newer, larger, or more luxurious homes here can sell for over a million up to several million.
Downtown
Downtown Amenities
Many shopping, dining, and nightlife options
Cultural scene including museums and music venues
Numerous parks and green spaces, including along the waterfront
Portland State University
The Downtown neighborhood is the heart of Portland, a dense, walkable area known for its high-rise buildings and compact streets. The community is bounded by Interstate 405, the Willamette River, and W Burnside Street. However, some also include the Chinatown area to the northeast. Downtown is a perfect neighborhood for those looking to be right in the center of it all. There's a significant number of shops, restaurants, bars, and other entertainment spots in Downtown Portland, along with museums like the Portland Art Museum and other notable facilities like Portland State University. As if that's not enough, Downtown's central location means it's easy to hop on Interstate 5 or 405, in addition to U.S. Highway 26, for trips around the city, state, or rest of the Pacific Northwest.
Homes in Downtown Portland are primarily limited to multifamily condominium buildings, with a smaller number of townhouse-style properties available. On the low end, some smaller or older units can be found starting in the low $200,000s. Most sell from the mid-$400,000s to the mid-$600,000s, although some luxury units can sell for a million dollars or more.
Nob Hill
Nob Hill Amenities
Unique, historic architecture
High walkability
Easy access to downtown/Pearl District and freeways
Legacy Good Samaritan Medical Center
One of Portland's hippest neighborhoods lies in the northwest section known as Nob Hill. Also referred to as the Alphabet District, the Nob Hill neighborhood is one of Portland's oldest, dating back to the mid-19th century. This heritage can be seen by any visitor who takes a stroll, as Nob Hill is home to some of Portland's most unique houses, many designed in Victorian or other historic styles. These single-family detached homes dominate the district's housing, complemented by a limited number of condominium units in converted homes or apartment buildings. Some condos can be found as low as the $200,000s, though single-family homes generally list for $1.5 million or more.
Like many Portland neighborhoods, this area is filled with an ever-evolving group of shops, restaurants, and nightlife spots, so there are plenty of things to do in Nob Hill. Better yet, the area's easy walkability means residents can leave the car at home for errands or a night out. For lovers of the outdoors, Nob Hill is also just a short drive to Washington Park and Forest Park, one of the country's largest urban parks. Meantime, sports fans will enjoy their proximity to Providence Park, home of MLS' Portland Timbers.
Arlington Heights
Arlington Heights Amenities
Secluded community close to downtown and other popular neighborhoods
Large and spacious homes
Extensive green space
Adjacent to Washington Park
Nestled inside the northern side of Washington Park, Arlington Heights offers a secluded escape just minutes from some of Portland's most exciting areas. Set along steep, winding streets, some of the city's grandest homes are here, built in a variety of architectural styles. It's easy to forget downtown is only about 10 minutes away by car in this quiet, green community. Residents can take advantage of all of the many attractions of Washington Park, including the Oregon Zoo, the Portland Japanese Garden, an arboretum, public art, memorials, and many sports fields and playgrounds. But the many restaurants and other attractions of Nob Hill are just minutes away, and a few minutes more will bring residents to the heart of the city.
Made up almost entirely of single-family detached homes (and a few parcels of undeveloped buildable land), Arlington Heights offers spacious properties with three to five bedrooms and up to nearly 6,000 square feet of living space. Homes in Arlington Heights typically start in the high six figures but can sell for $2.5 million or more on the high end.
Mount Tabor
Mount Tabor Amenities
Quieter, mostly residential streets
Mt. Tabor Park
Easy access to local highways and downtown Portland
Warner Pacific University
Mt. Tabor is an east Portland neighborhood centered around the park that shares its name. This hundred-plus-year-old community and park are built on a volcanic cinder cone. Mount Tabor Park offers the area's primary attractions and is notable for its large historic reservoirs, walking and biking trails, and even a yearly adult soapbox derby! Outside the park, residents can enjoy peaceful residential streets. Most commercial activity is limited to the major roads bordering the community, E Burnside Street and SE Division Street. However, extensive shopping and dining options are located just outside Mt. Tabor's borders along SE Hawthorne Boulevard, like Mexican restaurant ¿Por Qué No? and health-conscious spot Harlow. In addition, the neighborhood's central location means easy access to several freeways for trips around the Portland region.
Homes in Mt. Tabor are primarily single-family detached houses, with a limited number of townhouses. Older, smaller homes can generally be found starting at around half a million dollars. Most others sell in the high six figures, though they can sell as high as the $1.5 million range.
Laurelhurst
Laurelhurst Amenities
Some of Portland's largest homes
Laurelhurst Park
Close to downtown
Providence Portland Medical Center
The southeast Portland neighborhood of Laurelhurst is one of the city's oldest but most popular neighborhoods—and for good reason. It's one of the first "planned communities" ever created in the United States, resulting in a more coherent, orderly design and construction rather than the sometimes-sprawling organic growth of other parts of the city. The area, set south of Interstate 84 between NE 32/33rd Avenues and NE 44th Avenue, is almost entirely residential, except the well-known Laurelhurst Park. This beautiful community green space operates as a center of the neighborhood. It includes walking paths, playgrounds, sports fields, a pond, an outdoor stage, and more. Despite the quiet, established feel of the neighborhood, downtown Portland is only a few minutes away, thanks to the nearby freeways and light rail transit stops. Laurelhurst is also home to a well-known gilded statue of Joan of Arc, which sits in Coe Circle as a World War I memorial.
Smaller homes in Laurelhurst with three to four bedrooms typically start in the mid to high $500,000s. However, Laurelhurst also includes a significant number of five- to six-bedroom homes that can reach the high $800,000s to over a million dollars. Some of these spacious homes have more than 5,000 square feet of living space, making them among the largest in the Portland area.
West End
West End Amenities
Adjacent to downtown, Pearl District, and other top neighborhoods
Highly walkable and bikeable community
Director Park
Multnomah County Central Library
The West End may still be fully coming into its own as an independent neighborhood, but this vibrant enclave near downtown shouldn't be missed by those looking for a home in Portland. While the boundaries are less distinct than some other areas of Portland, it's generally considered to include the area between W Burnside Street, SW Morrison Street, Interstate 405, and Broadway. West End distinguishes itself from the nearby urban core with its local flair. Local shops, restaurants, and bars replace the soaring commercial buildings a few blocks away. It's home to Portland's famous Powell's City of Books and the iconic Crystal Ballroom live music venue. The neighborhood's central location means getting around is easy by car, bike, transit, or foot.
Like nearby downtown, West End's housing is primarily made up of mid-rise and high-rise condominiums and other multifamily buildings. For those looking for affordability, studio units can generally be found as low as the high $100,000s. Most one- to two-bedroom units range from the $200,000s to the $600,000s.
Other Top Portland Neighborhoods
There are many—if not hundreds—of beautiful neighborhoods and communities throughout the Portland metro area and even into Southwest Washington. Here are some other great options to check out.
Northwest Heights
This Portland neighborhood has been ranked as the best place to buy a house in Portland. It receives nearly all high marks for its sparse suburban feel, residential homes, and many parks. Homes for sale in Northwest Heights are generally priced between $400,000 and $600,000, and there's a population of about 5,500. Residents are about 10 minutes from downtown Portland and the Pearl District.
Lloyd District
Looking for high-rise condominiums? The Lloyd District is home of the Mode at Center and the Veterans Memorial Coliseum in the Rose Quarter. You'll find lots of shopping and dining, a highly commercialized area, condominiums, apartments, and high-rise living. Real estate here typically starts in the $200,000s.
South Waterfront
While this is not necessarily its own neighborhood, South Waterfront is a region in downtown Portland. High-rise condominiums and homes on the shores of the Willamette River are abundant. The waterfront district is close to hospitals, markets, shops, restaurants, and entertainment in downtown. Condos for sale in South Waterfront generally range between $350,000 and up past $1 million.
Sellwood/Moreland
This district, which sometimes encompasses Overlook and University Park, offers residential homes close to downtown yet slightly removed from the dense urban feel of the Pearl District. Most homes feature beautiful views of the river and waterfront parks with all the amenities you'd want in a popular neighborhood, such as restaurants, shopping, and entertainment. Sellwood/Moreland real estate generally lists for between $375,000 and $800,000.
St. Johns
Also referred to as Cathedral Park, these two distinct neighborhoods feel like small towns where folks enjoy the quirkiness and eclectic feel of North Portland. For unique architecture, outdoor activities in Forest Park, or kayaking around the areas, St. Johns makes a beautiful place to call home. Prices for homes for sale in St. Johns range between about $200,000 to $1 million.
Sylvan Highlands
This area, which includes other neighborhoods such as Southwest Hills, Bridlemile, and Healy Heights, offers an upscale suburban neighborhood with larger backyards. You won't find a lot of commercialization in this area, but you will find larger homes and well-organized neighborhood associations. Homes for sale in Sylvan Highlands typically go for between $600,000 and $1 million.
Ladd's Addition
This unique and historical neighborhood is Portland's first planned neighborhood with a mix of residential homes and rose gardens. It's quite different than most other Portland neighborhoods as it does not follow a typical grid system. You'll find historical buildings and homes, a quiet reprieve from the city, and tree-lined streets with people riding their bikes or spending time out in the front yard. You'll find homes in Ladd's Addition from about $350,000 to over $900,000—they typically have a historical or vintage design.
Bustling Downtown to Suburban Oasis: Portland's Got It All
Moving to Portland can be an exciting time. However, it can also be a stressful one, navigating a competitive housing market and learning about the ins and outs of the city. Each of these top Portland neighborhoods offers its own unique set of benefits for future residents. No matter what community they choose, new Portlanders will find a city full of one-of-a-kind amenities and experiences, all just a short trip from their front door.