7 Best Neighborhoods in Lake Oswego: Where to Live
Posted by Alicia Smith on Friday, February 25, 2022 at 11:46 AM
By Alicia Smith / February 25, 2022
Comment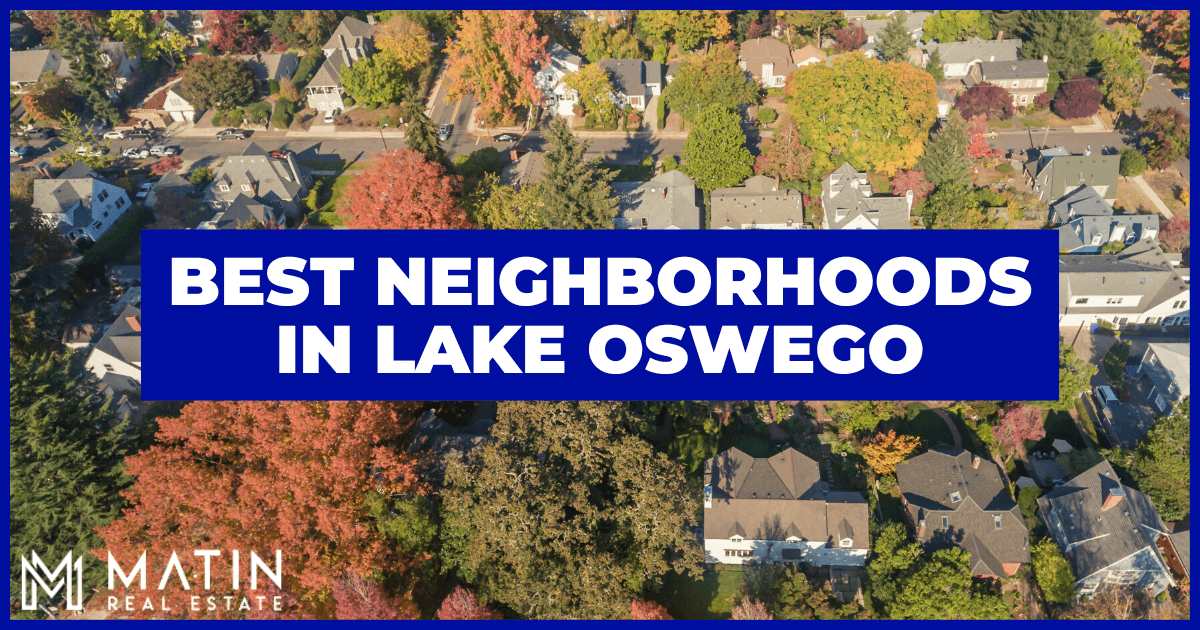 Lake Oswego is a charming city on the south side of the city of Portland, with a population just below 40,000 people. The city's focal point is its beautiful, 400-acre, naturally-occurring Oswego Lake.
Lake Oswego real estate is highly desirable for the surrounding natural beauty and terrific amenities. There are close to 500 acres of green space for residents to enjoy, with miles of trails winding throughout this city.
There are plenty of neighborhoods within the city, but some stick out more than others to people moving to Lake Oswego for their locations, amenities, and conveniences. Keep reading to learn about the best neighborhoods in Lake Oswego, Oregon.
Blue Heron
Blue Heron Amenities
Blue Heron Bistro
Blue Heron French Cheese Company
Grocery Outlet
Safeway
Located in southwest Lake Oswego, Blue Heron is a waterfront neighborhood with 1,000 residents. In addition to Oswego Lake, Blue Heron Bay and the Oswego Canal are also located in Blue Heron.
These waterways mean that Blue Heron is one of the neighborhoods closest to Oswego Lake. Homes for sale in Blue Heron sell for anywhere between $700,000 and $3,000,000, with waterfront homes selling at the higher end of this spectrum. Interiors boast 2,000 feet of living space or more, and most homes offer at least three bedrooms and two or more bathrooms.
U.S. Route 101 runs directly through the neighborhood, making the neighborhood a dream location for commuters. The Downtown Portland area is just under a 30-minute drive from the neighborhood. Blue Heron is also served by TriMet, Portland's public transportation system, and there are five bus stops within the neighborhood.
Blue Heron boasts a warm and neighborly feel, and many residents enjoy congregating at one of the local cafes to share coffee and a quick bite to eat before jetting off to their workday. Two coffee hotspots favored by locals are Five Rivers Coffee Roasters and Lindsey's Lattes.
Bryant
Bryant Amenities
Deno's Pizzeria
Aji Tram
La Provence Bakery and Bistro
Rite Aid
Starbucks
Bryant is a quiet neighborhood in Lake Oswego. The community has many wooded areas that bring peace and relaxation to its lucky residents. Bryant locals love to stop and take a breath of fresh air in Bryant Woods Nature Park, a dog-friendly area with plenty of trails, and Canal Acres Nature Park, offering over thirty acres of paths to view the flora and fauna of Lake Oswego.
Bryant homes for sale usually go at prices between $1,00,000 and $3,000,000. Most properties are Lake Oswego luxury homes, boasting high-end stainless steel appliances, vaulted ceilings, and hardwood floors. Most homes have at least three bedrooms and multiple bathrooms.
There is an even mix of single-family and attached homes in the area. Condominium units are typically more affordable than detached homes, starting at around $200,000 and costing as much as $400,000 or more.
In addition to its lush landscape and high-end homes, Bryant is less than a twenty-minute drive from Downtown Portland. For Bryant residents who commute using public transportation, the South Waterfront Bus Route 36 provides service between Lake Oswego, the town of Tualatin, and Portland during the week.
Evergreen
Evergreen Amenities
Peet's Coffee
Sur La Table
Tucci
Millennium Plaza Park
Safeway
Whole Foods Market
Lake Oswego's Evergreen neighborhood has an excellent location on the northern border of Oswego Lake's shoreline. Homes here cost around $700,000s for properties set back from the shore, while a waterfront home will sell for $1,300,000 or more.
Real estate in Evergreen is a pleasing mix of craftsman, cottage, and colonial styles. Lake Oswego condos are also available in the Evergreen neighborhood, and units typically come with amenities like fitness centers and swimming pools.
The Evergreen Neighborhood Association is typically behind the community events in the neighborhood. Members of the neighborhood association also help to welcome and provide resources for new residents into the neighborhood.
Evergreen is also known as one of the most walkable neighborhoods in Lake Oswego. Several restaurants are dotted along these streets and are within easy walking distance of many residents. Some local favorites here include Duke's Public House and Salt & Straw.
For those Evergreen residents not looking to walk, Metro Transit bus lines 35, 36, and 37 have stops within Evergreen or a short walk from the neighborhood. These buses provide service to downtown Portland and other significant areas.
First Addition
First Addition Amenities
Lake Oswego Public Library
Tada Sushi Studio
Baird's on B Bar & Grill
Gemini Bar & Grill
Jacksons Food Stores
First Addition is a warm and inviting neighborhood in Lake Oswego. Just over 2,000 residents give the neighborhood a close-knit, small-town feel. The community has been spotlighted in several articles, including in Country Living magazine and the American Planning Association, for its excellent atmosphere, walkability, and proximity to restaurants, shopping, and entertainment.
There is a pleasant mix between old and new construction in First Addition. Some of the most famous architectural styles include English cottages, ranch-style homes, craftsman houses, and bungalows. First Addition homes for sale start at $900,000 and can be as much as $1,500,000.
First Addition places great importance on shopping locally and supporting First Addition businesses, and most shop owners have a great relationship with the neighborhood. Wizer's Fine Wines, Mapel Boutique, and Simply Posh are just a few specialty shops in First Addition's town center.
From First Addition, it's easy to hop on Oregon Route 43 and drive directly to Portland. There are several TriMet bus stops in the neighborhood for residents who prefer public transportation, and downtown Portland is just a 30-minute ride away.
Lake Grove
Lake Grove Amenities
Lake Oswego Hunt Club
Iron Mountain Park
Campbell Native Garden
Babica Hen Cafe
La Provence Boulangerie & Patisserie
Lake Grove Post Office
Lake Grove is west of Oswego Lake and right off Interstate 5 and Boones Ferry Road. With just over 2,000 residents, the neighborhood is vibrant and bustling without feeling crowded. The neighborhood is mixed with both owners and renters.
Lake Grove real estate prices in the area start at $700,000 and can be as much as $4,000,000. Waterfront homes are typically on the high end of this spectrum, but prospective buyers looking for a home in this range will be pleased by the wide range of options and prices available.
They will also be pleased by the neighborhood being home to the Lake Grove Swim Park, one of the two approved swimming areas on Oswego Lake. After a swim, there are plenty of places to stop by for a quick bite to eat, most within walking distance. Some local favorites include Jefe, Gubanc's Restaurant, and Malee's Thai Kitchen.
With so many amenities just a short walk or drive from home, many residents have no reason to leave home. However, those who need to commute can take advantage of the TriMet transportation system and the many bus stops throughout Lake Grove.
Mountain Park
Mountain Park Amenities
Mountain Park Community Center
The Olive and the Grape
Well and Good Coffee House
Sincerely Skin
Little Big Burger
Walter Mitty's Restaurant & Bar
Located on a mountain top, the neighborhood of Mountain Park is what fairytales are made of. Mountain Park is known for its gorgeous views of the valleys and overflow of flowers like daisies, honeysuckle, and dogwood trees. Nature lovers need look no further than Mountain Park.
One of the favorite pastimes for residents is taking a relaxing walk on many of the well-maintained trails in the neighborhood. There are also several green spaces within the neighborhood for residents to spend time in. The best parks here include Touchstone Park, Nansen Summit Park, and McNary Park.
For prospective residents who would like to call this scenic setting home, homes for sale in Mountain Park sell for anywhere between $600,000 and $1,000,000. This range is more affordable than many nearby areas, including Lake Grove and Bryant.
Even less expensive are the condominiums and townhomes in the area. Most units start at $200,000 and don't go above $500,000. These condos boast magnificent views, and most units have wide-open floor plans and in-unit washers and dryers.
It might be challenging for some residents to leave this surreally beautiful setting, but many residents need to commute for work. Thankfully, two significant roads travel straight through the neighborhood— McNary Parkway and Boones Ferry Road— nearly 20 TriMet bus routes that take commuters to downtown Portland in less than 30 minutes.
McVey South Shore
McVey South Shore Amenities
Aspen Park
Peet's Coffee and Tea
PEAK Personal Training
Pets First: Diane's Priority Pet Care
JJ's Pub
McVey South Shore is a small neighborhood located within Lake Oswego. The community boasts several restaurants, fitness centers, cafes, and green spaces, many of which are within walking distance of McVey South Shore residents.
Most commercial and retail space is concentrated around the city's main thoroughfare, Stafford Road. Two of the most popular spots for shopping and thrifting in the neighborhood are Consigning Women, a resale shop filled with fashionable finds, and Mixitup, a kitschy gift shop with plenty of unique offerings.
Homes for sale in McVey South Shore sell for anywhere between $300,000 and $1,000,000. Properties in the neighborhood are adorned with pretty porches, spacious driveways, and meticulously-maintained lots. Interiors boast updated kitchens, recessed lighting, and open floor plans. The typical home in McVey South Shore has upwards of three bedrooms and multiple bathrooms.
Stafford Avenue runs diagonally through McVey South Shore and allows residents easy access to jump on Oregon Route 43, which leads directly to Portland to the north. TriMet bus route 36 has a bus stop in McVey South Shore for residents who take public transportation at McVey & Oak. This route takes residents through several Lake Oswego neighborhoods until eventually reaching Portland City Center.
Find Your Dream Home in The Best Neighborhoods in Lake Oswego
Lovers of peace and quiet will adore the many neighborhoods that Lake Oswego, Oregon, has to offer. With each neighborhood boasting a unique and individual atmosphere, there is bound to be a perfect community for every prospective resident.
If you're interested in living in Lake Oswego, Oregon, contact Matin Real Estate at (503) 622-9601 to get in touch with a local real estate agent and find the ideal Lake Oswego home for you today.