8 Best Neighborhoods in Beaverton OR: Where to Live in Beaverton
Posted by Alicia Smith on Thursday, January 26, 2023 at 11:28:02 AM
By Alicia Smith / January 26, 2023
Comment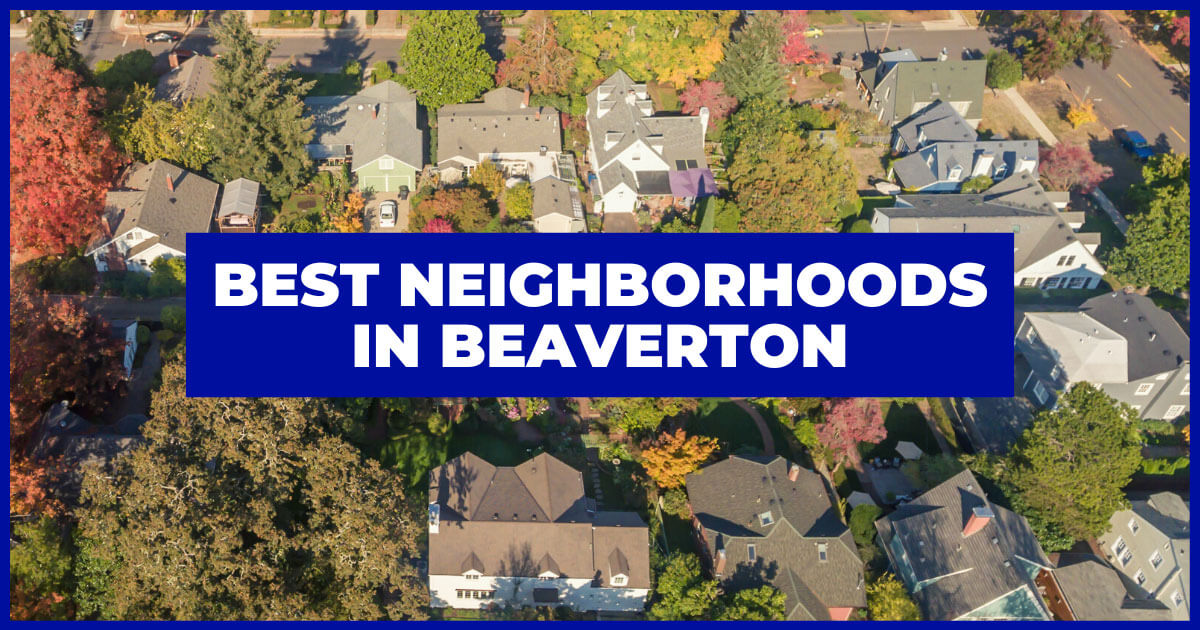 Conveniently located in the Tualatin Valley, the city of Beaverton sits between two major regional highways and connects to the region's bus and light rail transportation, making getting to work or play quick and easy. Beaverton is only seven miles west of downtown Portland in the heart of the "Silicon Forest," whose high-tech manufacturing businesses provide stable, sustainable jobs for the region. Head east on Highway 26, and you're in Cannon Beach and the Oregon Coast in under an hour and a half.
Beaverton is regularly named a best place to live for its dynamic food scene, outdoor resources, and active communities. Its neighborhoods are lush, tree-filled, and green, containing more than 90 park sites in the greater Beaverton area. Here are highlights of some of the best neighborhoods in Beaverton.
Sexton Mountain
Sexton Mountain is a residential community with abundant parks and interconnected trails. Most homes are single-family, three- to four-bedroom properties built by 1995. Some apartment rentals and townhouses built in the 2000s are also available. The median value of homes for sale in Sexton Mountain is around $450,000.
Sexton Mountain's neighborhood community association is active and organizes events like block parties and local arts programs. Students in Sexton Mountain typically attend Sexton Mountain Elementary School, Highland Park Middle School, and South Ridge High School, all in the Beaverton School District. Sexton Mountain Elementary has an active parent-teacher group that supports programs like a running club, STEAM programs, and a school carnival.
Shopping in Sexton Park differs from other Beaverton neighborhoods due to its residential setting. There are fewer big-box stores in favor of smaller, independently owned restaurants and services. However, Sexton Market still offers much in the way of dining and coffee shops and conveniently has multiple grocery stores, restaurants, hardware stores, and beauty services.
Sexton Mountain Amenities
La Provence
Sexton Mountain Park
Trails and play structures abound at the area's seven local parks
Winkelman Park and off-leash dog park
Cedar Hills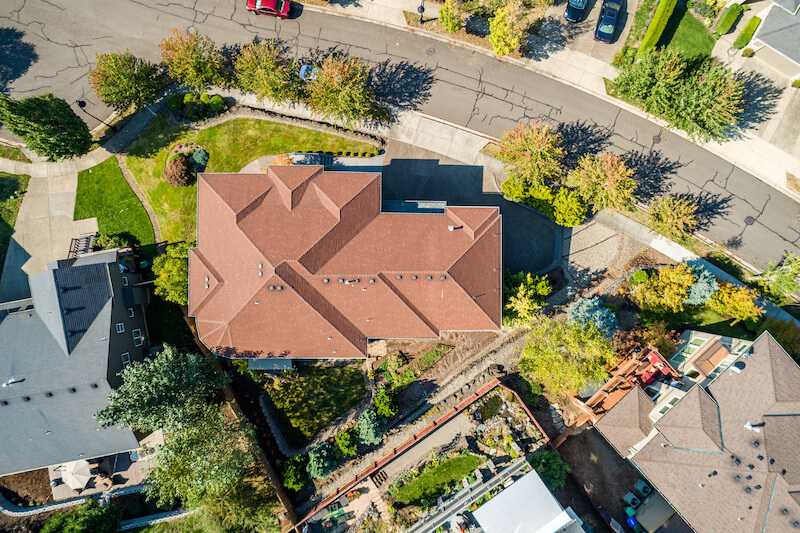 Cedar Hills is one of Beaverton's most sought-after neighborhoods for its central location, shopping, and numerous parks and trails. About 9,000 people reside in this lush suburban community. Homes for sale in Cedar Hills list for $630,000 and are typically around 1,800 square feet.
Cedar Hills borders Highway 26, making it convenient for commuting throughout the Portland metro area. It also houses the Sunset Transit Center's Tri-Met Light Rail and bus lines, making it close to everything Portland offers.
Those looking for the most amenities will prefer this neighborhood in the heart of Beaverton. Cedar Hills has numerous shopping options, from convenient big box stores like Office Depot and PetSmart to local dining standout Decarli.
Cedar Hills Crossing is Beaverton's largest shopping center, with 70 shops, restaurants, a bowling alley, and a 16-theater cinema. It boasts local chains like Powell's Books, arguably the country's most important independent bookstore, McMenamin's Pub, and a New Seasons Market.
Cedar Hills Crossing's service offerings make it a one-stop shopping experience, with spa services, pilates, a health center, and multiple medical, dental, and vision offices.
Cedar Hills Amenities
West Hills Racquet & Fitness Club
Tualatin Hills Nature Park
Cedar Hills Recreation Center
Costco
McMenamins Rock Creek Tavern
Nike corporate offices are next to Beaverton's Cedar Hills neighborhood
Aloha
Say aloha to Aloha (pronounced "a-LOW-ah"), a suburban community with a mix of residential and commercial areas near West Beaverton. Aloha is known for its convenient location: its main thoroughfare is the Tualatin Valley Highway, and it is bordered by two other highways, connecting Aloha to Portland and nearby cities.
While it might seem like a neighborhood of Beaverton, Aloha is actually an unincorporated community of Washington County. It has all the amenities of a small city, like its own post office, library, and schools, but gets its government services from nearby communities of Tualatin, Beaverton, and Hillsboro.
Homes for sale in Aloha begin in the mid-$500s and consist primarily of three to five bedrooms. One of the area's largest employers, Intel, has its campus in Aloha.
This delightful community has neighborhood parks scattered throughout. Aloha is also home to several small shopping centers with larger retailers, like Safeway, surrounded by various smaller restaurants and services like Mazatlan Mexican Restaurant. During summer, buy direct from farmers, food vendors, and artisan creators at the Aloha Community Farmers' Market.
Aloha Amenities
The Reserve Vineyards & Golf Club
649 Taphouse and Bottle Shop
Nonna Emilia's
Don Chilitos Mexican Grill
Monteaux's Public House
Hazeldale Park/Dog Park
Five Oaks
Five Oaks is home to about 21,000 residents, so there are various home styles in this large, residential neighborhood. Most homes were built between 1970 and 1990 and feature a one- or two-car garage, two to four bedrooms, and multilevel living. The average price of homes for sale in Five Oaks is between $400,000 and 500,000, with a median monthly rent of about $1,500.
Five Oaks has an active community association that meets monthly. In 2018, Five Oaks won neighborhood of the year in the Neighborhoods USA Beautification contest for park restoration and habitat improvement.
The jewel of Five Oaks is the city's Howard M. Terpenning Recreation Complex, a 92-acre compound with several amenities, including:
A swimming pool
An aquatic center
A fitness center
A tennis center with 15 courts
Soccer, lacrosse, football, softball, and baseball fields
A roller hockey rink
Skate parks
Basketball courts
Several playgrounds
A 10-acre natural area with several miles of walking trails
Five Oaks Amenities
Waterhouse Powerline Park trail system
Golden Valley Brewery and Restaurant
Oyatsupan Bakers
Fred Meyer
Neighbors Southwest/Murrayhill
At the far southwestern tip of Beaverton sits the crown jewel of neighborhoods: Southwest and Murrayhill, typically just called Murrayhill. This well-planned, established community consists of luxury homes, townhouses, condominiums, and apartments. Most homes sit on larger-than-average lots built in the last 25 years, and there are many new builds as well. Murrayhill homes are often two-story with attached two-car garages; some even provide owners with territorial or mountain views.
Murrayhill is bisected diagonally by a connected network of parks, trails, and ponds into a verdant community of private, peaceful cul-de-sacs. Murrayhill Park has tennis courts, picnic benches, and a playground with a play structure, climbing web, and swings. Progress Lake Park provides an active water play and trout fishing destination.
Murrayhill is within the Beaverton School District and includes Nancy Ryles Elementary, Highland Park and Conestoga middle schools, and Southridge High School. There are also private, charter, and magnet schools nearby.
Neighbors Southwest/Murrayhill Amenities
Ava Roasteria and other great coffee shops and bakeries abound
Murrayhill Pond
Café Murrayhill
Progress Ridge Town Square
Murray Scholls Town Center
Private Murrayhill Recreation Association clubhouse
South Beaverton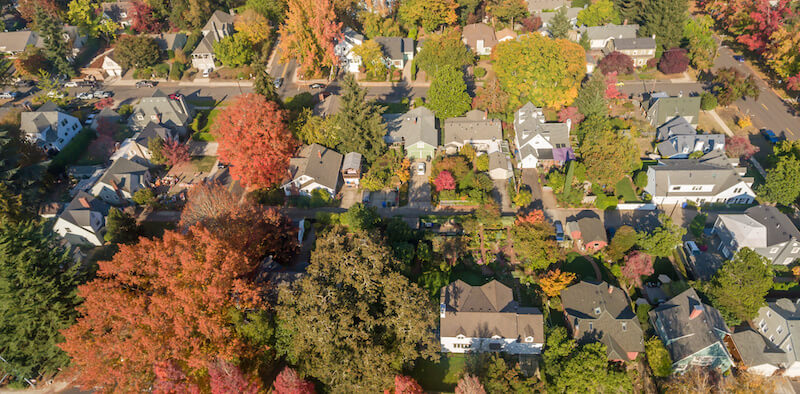 Tree-lined South Beaverton is a well-established neighborhood of primarily single-family homes. It was developed between the 1950 and the 1990s, and, like most Beaverton developments, homes tend to be stylistically similar, with mostly single-family properties in the community. The average price of homes for sale in South Beaverton is between $450,000 and $650,000.
Anchoring South Beaverton is Hyland Woods, a 30-acre forested park of mature Douglas Fir forest. It is home to an innovative 1.5-acre nature play area that encourages free play and nature exploration off-trail. Parks are sprinkled throughout South Beaverton, adding to its outdoorsy atmosphere.
South Beaverton Amenities
Conestoga Recreation and Aquatics Center
Greenway Town Center
Downtown Beaverton
Southridge High School
West Beaverton
West Beaverton sits just west of downtown Beaverton south of Highway 26, the highway that goes into downtown Portland. It is a quiet, private, and peaceful neighborhood with slightly larger homes, leading to its slightly higher home prices. Townhouses start at $300,000, and single-family home prices range between $500,000 and $800,000. Most were built in the 1970s and 1980s.
West Beaverton is full of parks and green spaces, such as Burntwood Park, which covers 7.5 acres and follows the Westside Regional Trail as it runs up from the Sexton Mountain neighborhood along the powerline corridor. The park also has a playground and picnic area within walking distance of many of the homes in the southern half of the neighborhood. Other local parks include Mt. Williams Park, Brookhaven Park, and Lowami Heart Woods, among others.
West Beaverton Amenities
Lowami Hart Woods Natural Area and Johnson Creek
Parks connect to Beaverton's trail system
Safeway
Shari's Cafe and Pies
Vose
Vose has a much more urban feel than other neighborhoods in Beaverton because of its busy restaurant, bar, and cafe scene and the apartments and condominiums interspersed in these commercial zones. Vose is the third most walkable neighborhood in Beaverton and is highly bikeable.
Right at the intersection of SW Allen Boulevard and SW Lombard Avenue in the northwest part of the neighborhood, there's a cluster of casual restaurants ranging from Mexican to pizza to bakeries, as well as several other services. The local elementary school is in the southern portion of the neighborhood near Fanno Creek Greenway, the largest local park, which features popular ADA-accessible walking and biking trails with chances to see wildlife.
Vose's location adjacent to Highway 217 makes it easily accessible but gives it an industrial feel along that freeway. Some smaller, older homes (some nearly 100 years old) are mixed in with commercial buildings, differing this neighborhood from other parts of Beaverton.
Vose Amenities
BG Cartel, a permanent food cart pod
Loyal Legion
The Sudra
Timbers Training Center
International School of Beaverton
Beaverton Is Highly Desirable for Home Buyers
Beaverton's well-established, tree-lined neighborhoods make it a desirable place to put down roots. It has a wealth of dining options, a vibrant bar and restaurant scene, and convenient amenities, giving lucky residents everything they need in a large but convenient area. Living in Beaverton grants access to some of the area's largest employers, major highways, and public transportation to make commuting realistic. This Oregon city has something for everyone!