Top 7 Master Planned Communities in Portland, OR: Luxe Homes & Excellent Amenities
Posted by Alicia Smith on Saturday, December 17, 2022 at 7:09 AM
By Alicia Smith / December 17, 2022
Comment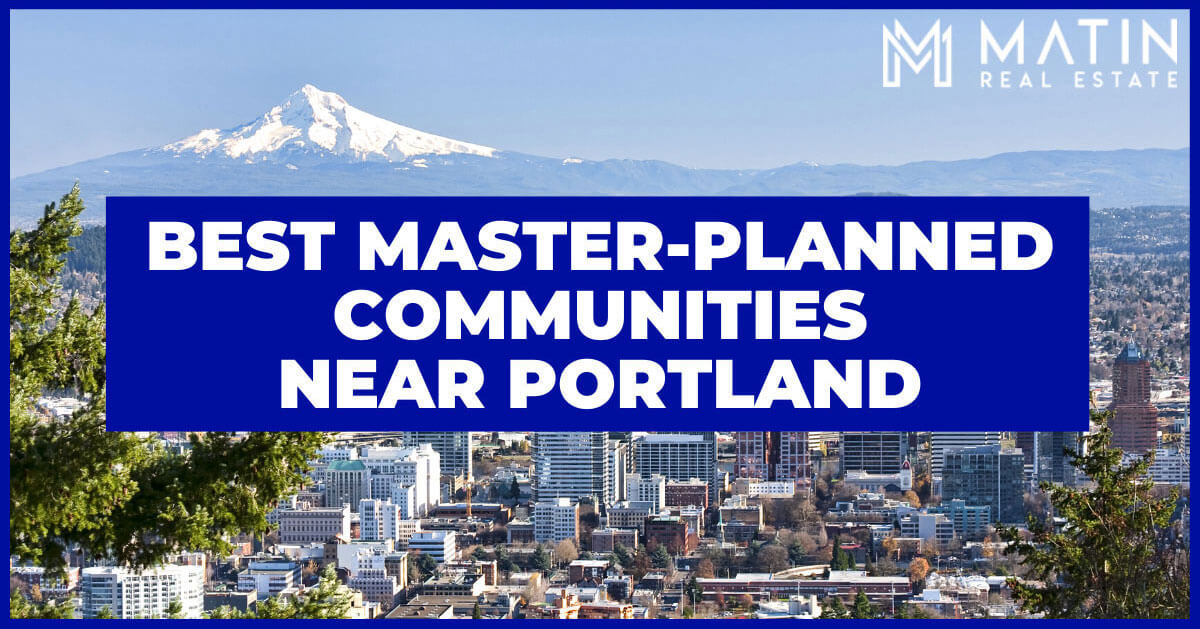 Living in a master-planned community can have so many advantages. Residents of Portland homes can enjoy cohesively designed residential areas, thoughtfully placed commercial and public spaces, and enjoy a variety of amenities. But it's not always easy finding the right master-planned community, especially in a housing market like Portland, OR. Keep reading for a look at some of the top choices for the best master-planned communities near Portland when it comes to design, amenities, location, and more.
Ridgeline at Bethany
Ridgeline at Bethany Amenities
Extensive green space
Neighborhood parks with playgrounds and picnic areas
Located along a local network of walking paths
Quick access to local shopping, US-26
The Ridgeline is a thoughtfully planned community located among homes in Bethany, a suburb of Portland located northwest of the city. These single-family detached homes are available in a variety of spacious, two-story floor plans with three or four bedrooms, ranging from just under 1,400 to more than 1,800 square feet. Design features include covered front porches, owner's suites, contemporary interior finishes, and stone, brick, and wood accents. Home chefs will love the gourmet kitchens that are open to dining and living rooms for easy entertaining. Ridgeline homes are also built with eco-friendly construction and materials. Prices typically start in the mid-$500,000s but can reach as high as the $800,000 range for luxury homes.
Around the community, owners will find ample green space, play areas, and walking trails, making it a perfect neighborhood for those who love to get outdoors. Meantime, residents are just a few minutes by car from the best dining and nightlife Bethany has to offer in Bethany Village, with spots like Bethany Public House, Bethany's Table, and others. This area also provides convenient everyday shopping like groceries and pharmacies. A few minutes' drive more takes owners to US-26, which offers easy commuting into the city or other parts of the Portland area.
East Ridge
East Ridge Amenities
Community pool
Community center
Fitness center
Park with playground
Picnic areas
West of homes in Tigard, the still-developing community of East Ridge promises to offer some of Portland's most idyllic living as more amenities continue to be added. Future homeowners will find a wide variety of layouts ranging from single-story to three stories, ranging from around 1,900 square feet up to more than 3,000. They each include three to five bedrooms and two to four bathrooms, as well as sleek interior finishes, stainless steel appliances, and contemporary design. In addition, homes are built around TM LiveWell features like improved air filtration, water filters and preservation systems, and even low-chemical paints. East Ridge homes usually start in the $500,000s but can reach close to a million dollars with upgrades or for homes being resold by current occupants rather than the developer.
Outside of East Ridge, residents will find opportunities to explore the beauty of the Pacific Northwest just minutes away at Tualatin River National Wildlife Refuge. Homes are also conveniently located near the Progress Ridge Town Square mall, with entertainment, dining, and shopping options. Tigard is also the site of Washington Square mall, one of the state's largest shopping centers.
Mont Blanc at Villebois
Mont Blanc at Villebois
Village Center with market
Community center
Pool
Multiple community parks
Close to Graham Oaks Nature Park and Coffee Lake Wetlands
Mont Blanc at Villebois residents enjoy the best of all worlds: the quiet and comfort of suburban living, along with easy access around the Portland region. Located among homes in Wilsonville southwest of the city center, Mont Blanc at Villebois offers unique attached and semi-attached homes with three bedrooms and three bathrooms, as well as a one-car garage. Two choices of floorplans include 1,385 or 1,675 square feet of living space. Inside, residents can enjoy designer light fixtures, spacious closets, and luxury kitchens with stainless steel appliances. New construction home prices generally start in the mid $400,000s.
Modeled in the quaint style of a European village, Mont Blanc at Villebois incorporates a series of parks and thoughtfully planned green spaces along with amenities like a Village Center with retail and a community center with a pool. The community is also home to the New Wilsonville Skate Park. Thanks to its location near the edge of the Portland metro, residents can enjoy easy access to the many opportunities for outdoor recreation provided by this beautiful region. Still, thanks to its location close to Interstate 5, driving to downtown Portland is only a 20–30 minute trip!
Sunset Ridge
Sunset Ridge Amenities
Private, secluded setting
Multiple community parks
Easy access to U.S. Highway 26
Schools located within the community
The furthest west of Portland's top master-planned communities, Sunset Ridge is a collection of nearly 200 single-family detached homes located just off U.S. Highway 26 near the town of North Plains. These three- or four-bedroom properties range from around 1,400 to almost 3,000 square feet. Like other Taylor Morrison homes in the region, Sunset Ridge homes include TM LiveWell technology like improved air and water filtration, green or high-tech appliances, and more. Owners can also relax in their luxurious bathroom with a separate shower, soaking tub, and raised vanity with double sinks. Sunset Ridge homes generally sell from the high $400,000s to the high $500,000s.
Sunset Ridge will appeal to those who want to enjoy the quiet country life but still maintain access to Portland itself. The community is mostly surrounded by fields, providing a private setting with fewer people passing through. Residents can also enjoy local attractions like Helvetia Vineyards and Winery and Pumpkin Ridge Golf Club. Meantime, easy access to Highway 26 means a commute to the heart of Portland is less than 20 miles, only about a 30-minute drive.
Murray Hill
Murray Hill Amenities
Multiple commercial sites
Recreation center with pools, tennis and basketball courts, and athletic fields
Community green spaces
Walking/biking trails
Murray Hill traces its roots back more than 30 years and remains one of Portland's most desired master-planned communities. Set among nearly 400 acres of land, the community was developed to take advantage of its natural rolling topography. With more than 1,400 homes, it's one of the Portland area's largest planned communities.
Murray Hill contains a mix of single-family detached homes, townhouses, and multifamily buildings. Condo and townhome units with two to three bedrooms and two to three bathrooms often start in the high $300,000s and reach the mid-$400,000s. Detached houses usually start around that price and can sell for as much as the $800,000–$900,000 range. As one of Portland's more established master-planned communities, many homes in Murray Hill have been updated or customized in the three decades since their initial construction, contributing to a wide diversity in interior styles and features.
Residents can enjoy a variety of community amenities, including green spaces and a well-appointed rec center with a pool and sports facilities. Meantime, they're able to take care of many of their daily errands and needs right within Murray Hill, thanks to the community's two commercial and professional sites, Murrayhill Marketplace and Murray-Scholls Town Center. These facilities include shopping, dining, banks, child care, and even a local public library.
Mountain Park
Mountain Park Amenities
Scenic views and rolling topography
Clubhouse
Pool
Fitness center with sauna/steam room
Daycare available in the community
Rentable event spaces
One of the top planned communities closest to Portland proper, Mountain Park real estate offers a variety of distinctive multifamily, townhome, and single-family detached housing. One of Mountain Park's most noteworthy features is its natural landscape, set on and around a series of gorgeously forested hills. Most of the neighborhood's other amenities are located within the clubhouse complex, which functions as a center for the community. These include a pool, fitness center, social spaces, and event spaces for large events like weddings or other celebrations.
With various types of housing, some dating back decades, there's no standard style to these units, allowing would-be owners to find a look perfect for them. Homebuyers looking for an affordable Portland neighborhood should consider searching here; Mountain Park is among Portland's most affordable master-planned communities, with one-bedroom condo units generally starting below $200,000. Townhomes usually sell in the $300,000–$500,000 range, and single-family homes typically cost a half-million dollars or more.
Just a short drive from Interstate 5 and State Highway 99W, downtown Portland or any number of other suburban destinations are less than 10 miles away. Of course, all of the convenient shopping and dining available to Lake Oswego homes are even closer, as is the campus of Lewis and Clark College.
Fairview Village
Fairview Village Amenities
Highly walkable neighborhood
Fairview Community Park
Fairview Columbia Library
Preserved land and community trail system
Fairview Village is the only top Portland planned community on this list east of the city itself, slightly north of homes in Gresham, providing an excellent option for those who work in the area and want to avoid crossing the river on their commute. However, residents can plan on ditching the car when they get home, as Fairview Village is designed with walkable and bikeable retail, dining, and other businesses. Pocket parks are within a few minutes' walk of every cluster of homes, and kids can even walk to school on special paths designed not to cross busy roads!
Owners heading to work can hop on two bus lines serving the community, with links to the regional light transit system. Fairview Village is also adjacent to Interstate 84 and U.S. Highway 26, both of which provide access to Portland to the west and the Mount Hood and Columbia River areas to the east.
Homes in the area are constructed in a regional craftsman style popular in the early 20th century. Two bedroom, two bathroom townhome units generally start in the high $200,000s, while detached single-family homes with three to four bedrooms typically start in the mid-$400,000s up to the high six figures.
Reed's Crossing
Reed's Crossing Amenities
Locally owned Reedville Cafe
Fred Meyer supermarket and gas station
The Reserve Vineyard and Golf Club
Intel Aloha Wetlands Park
OHSU Health Immediate Care
Reed's Crossing is the largest master-planned community in the city of Hillsboro, which lies just a few minutes west of Portland. Close to Tualatin Valley Highway to the west, Oregon Route 217 to the east, and NW Sunset Highway to the north, Reed's Crossing offers convenient ways to get around this part of the state. The community contains 36 acres of open space for residents to explore, with bike lanes, trails, and other outdoor amenities available, including a 23-acre greenway and five wetland acres. Reed's Crossing will have an elementary school and a town center with grocery stores, restaurants, and other amenities at full build-out.
Reed's Crossing has solar-ready townhouses, single-family properties, duplexes, and triplexes for homebuyers to choose from. Homes for sale in Reed's Crossing range in price between the low-$300s and the mid-$800s and contain up to five bedrooms and three and a half bathrooms, plus garages for one to three cars. Some homes include a den or bonus room for extra space. Model properties can be customized with features like pocket offices and oversized closets.
River Terrace Crossing
River Terrace Crossing Amenities
King City Public Golf Course
Safeway
Tigard Towne Square
Trader Joe's
Hall Street Pizza Company
River Terrace Crossing is a master-planned community in Tigard offering low-maintenance properties and comfortable, customizable homes. This location provides residents with easy access to workplaces, stores, entertainment, and other amenities and attractions in downtown Portland, while also being close to the great outdoors in Cooper Mountain Nature Park and Tualatin River National Wildlife Refuge.
At full build-out, River Terrace Crossing will have its own neighborhood park. The community currently has walking paths and tree-lined streets for added visual appeal and shade.
Homes for sale in River Terrace Crossing begin in the mid-$800s and include a choice of one- or two-story single-family properties with two to four bedrooms. These smart tech homes come with added convenience and comfort, large windows, and open floor plans to provide spacious interiors with natural light year-round. Several customization options are also available, including spa-like baths and gourmet kitchens. Homesites or lots range from 4,400 to 7,400 square feet and include front-yard landscaping and charming front porches. Local schools include Alberta Rider Elementary School, Twality Middle School, and Tualatin High School.
Northside
Northside Amenities
Lacamas Park
Acorn and the Oak
Safeway
Washougal Waterfront Park
Walgreens
Northside is a master-planned community located northeast of Portland in Washougal, Washington. The community's location close to the Columbia River, US 205, Portland, Vancouver, and national forests gives residents plenty of attractions and amenities to enjoy.
Gifford Pinchot National Forest and Mount Hood National Forest are just minutes away from Northside for hiking and other outdoor activities. Offering scenic views of the river and Mount Hood, Northside's walking trails allow residents to explore their surroundings.
Northside includes 280 lots with homes starting in the low-$800s. These one- and two-story homes have several customization options to choose from, plus gourmet kitchens, luxury tile showers, two-car garages, and open-concept floor plans. Properties come with energy-efficient improvements, such as triple pane windows and advanced insulation. Innovative home features, including thermostats and WiFi systems, are also included. Gas fireplaces, enhanced lighting, and upgraded broadloom carpeting are additional features.
Local schools within five miles of the community are part of the Camas School District. Restaurants, shops, and other amenities are also nearby in downtown Camas.
A Good Plan Is Hard To Find—But Not Near Portland
Those looking to buy a home in a master-planned community should know they have many great options across the Portland area. However, these seven rise above the rest, offering superior locations, amenities, community design, and other aspects that make them some of the top places to live in the region. Whether homebuyers are looking for an amenity-laden community, access to the outdoors, or simply a more private neighborhood, the hardest part may be choosing just one.
If you're inspired by the opportunities in Portland, Oregon, contact Matin Real Estate at (503) 622-9601 to get in touch with a local real estate agent and find the ideal Portland home for you today.