4 Best Lakes Near Camas: Explore Lacamas Lake, Fallen Leaf Lake & More
Posted by Alicia Smith on Monday, May 8, 2023 at 7:53:04 AM
By Alicia Smith / May 8, 2023
Comment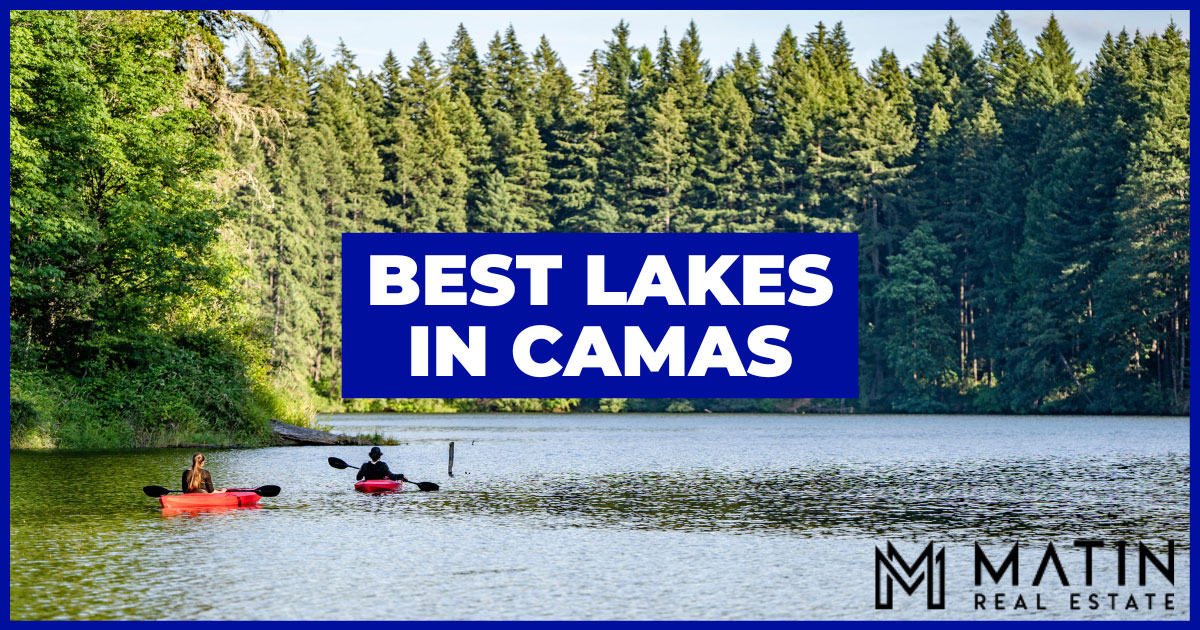 The city of Camas, Washington, is surrounded by a beautiful natural landscape, with lakes being a major attraction for locals and tourists alike. Several lakes in and around Camas offer a variety of recreational opportunities, such as fishing, boating, and hiking. If you're considering visiting or moving to Camas, follow along to explore some of the best lakes in and near the community based on scenery, water quality, and amenities.
Fallen Leaf Lake (Camas)
Almost 1.3 miles north of downtown Camas sits Fallen Leaf Lake and the surrounding park. Named for the abundance of fallen leaves from the park's trees, this area was once part of a thriving logging community. Now the lake offers an escape for locals, especially those from nearby cities and the suburban regions.
Fallen Leaf Lake is a tranquil haven, primarily a destination for hiking and biking, picnicking along the lakeshore, and paddling or swimming. No fishing is allowed, and only non-motorized flotation devices such as inner tubes, pool loungers, and inflatable kayaks or standup paddleboards are permitted. Note that there are no formal launch points, but there are several accessible natural access points around the lake.
The popular 4.1-mile Fallen Leaf Lake trail connects to Lacamas Lake, offering plenty of water and forest scenery. Dogs are welcome on the trail and in the park, but keep them on a leash.
Lacamas Lake/Round Lake (Camas)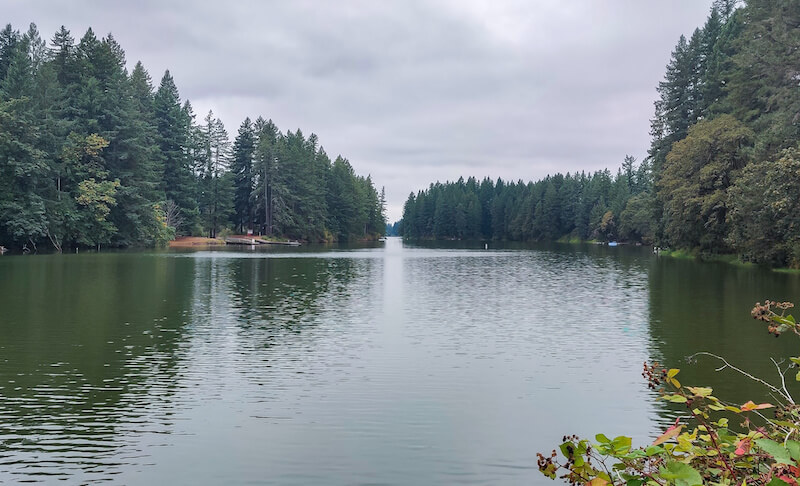 Approximately 1.5 miles north of downtown Camas is Lacamas Park—one of the best parks in Camas—sitting on a small strip of land that separates two of the area's most well-known lakes, Lacamas Lake and Round Lake. The latter body of water is fully encompassed by Lacamas Park, which is bordered on its west side by State Road 500 or NE Everett Street. Across this roadway lies the much larger Lacamas Lake, connected to Round Lake by a waterway that runs under NE Everett.
Lacamas Lake is a warm lake that's 2.4 miles long and less than a quarter of a mile across. It's an excellent destination for birdwatching, including bald eagles, osprey, and other local species. Fishing and swimming are popular activities, although visitors are encouraged to check for algae levels. The lake's southern edge features a 3.5-mile trail where visitors can run, hike, and bike.
The lake has two public boat ramps, one on the north and one on the southeast side, and Sweetwater SUP Rentals also offers kayak and standup paddleboard rentals.
Nearby Round Lake is a hotspot for fishing, with bluegill, bass, and perch stocked throughout the year. Hiking, jogging, picnicking and grilling, and photography are all popular at Round Lake. A trail surrounds the lake and crosses the dam, offering unique viewpoints — especially when Camas lilies bloom in the springtime. Both lakes are ringed by the park and some of the most spectacular luxury homes in Camas.
Sturgeon Lake (Sauvie Island, OR)
Sturgeon Lake is less than 40 miles northwest of Camas and 10 miles from downtown Portland. It's located on Sauvie Island on the Columbia River, which creates the natural border that separates Washington and Oregon. The lake is the largest lake on the largest fluvial island in the continental United States (it's about the size of Manhattan). It has nearly 3,200 acres of surface area, and its levels rise and fall based on the nearby Columbia and Willamette Rivers.
Every year, nearly 800,000 visitors flock to the natural playground Sauvie Island offers to enjoy recreational activities such as kayaking, lounging on the beach, fishing, hiking, and hunting. Given the amount of great outdoor activities in Portland and the surrounding area, the number of visitors to Sturgeon Lake is a testament to this wonderful natural area.
Based on its name, you may think Sturgeon Lake is the place to fish for sturgeon, but you're far more likely to catch catfish, salmon, and crappie here. The lake is maintained as a wildlife refuge by the Oregon Department of Fish and Wildlife and is considered one of the most biologically significant habitats in the Beaver State.
Sturgeon Lake is also an excellent place for birdwatching. It stands as a critical link in the Pacific Flyway for various species of birds that migrate seasonally between Alaska and Patagonia. Almost 200,000 geese inhabit this area during the winter months to grow and improve their chances of survival before reaching the Pacific Ocean when it warms up in the spring.
Lake Merwin (Clark County, WA)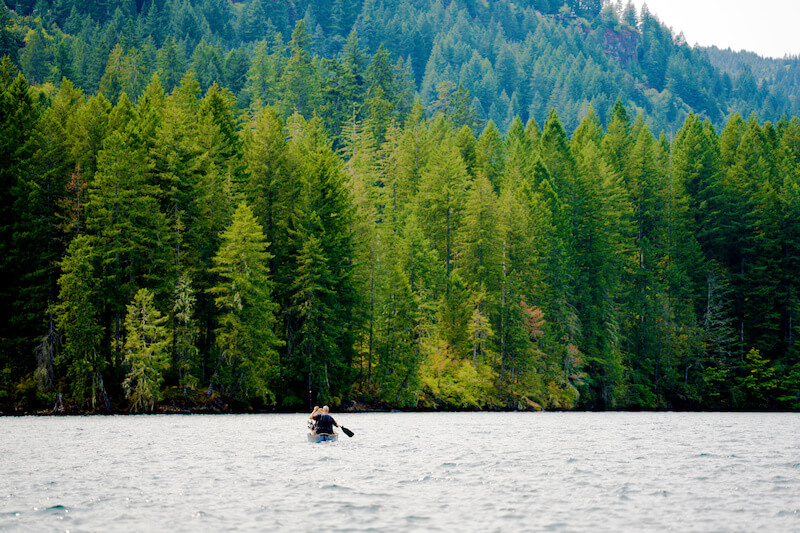 Around 40 miles north of Camas is Lake Merwin, a 620-foot-deep, 3,800-acre reservoir that was formed in 1931 as a result of the construction of the Merwin Dam. One of the major activities at Lake Merwin is fishing. Access is open all year but can change dramatically, specifically for boats, based on seasonal water levels.
The area is noted as one of the best places in the Pacific Northwest to catch kokanee salmon and tiger muskie. Other species include bull trout, chinook salmon, coho salmon, Dolly Varden trout, northern pike, and rainbow trout. Note that Dolly Varden and bull trout must be released.
Lake Merwin—one of Vancouver's best lakes in addition to Camas's—also has two boat launches that PacifiCorp operates at Speelyai and Cresap Bays. The latter bay is a part of Cresap Bay Park, a popular place for accessing the lake via standup paddleboarding. This area also has a boat ramp and a sectioned-off area for swimmers, in which no watercraft are allowed.
The nearby Cresap Bay Park includes an open grassy area for picnicking and 56 campsites. There is also a 23-slip private moorage area exclusively for overnight campers. The area is very popular during the summer, noted for its cleanliness. Parking is $3 per vehicle during the peak season on weekends and major holidays.
Lake Life is Nearby to Camas
The lakes in and near Camas, Washington, offer stunning natural landscapes that provide ample opportunities for outdoor recreation. Often mentioned among Portland's best suburbs, residents and visitors place a high premium on opportunities for outdoor recreation. Each lake has something unique to offer, from the scenic Lacamas Lake to the expansive Sturgeon Lake. Whether looking for a relaxing day on the water or an adventurous hike along the shoreline, these lakes have it all. With their pristine waters, breathtaking scenery, and abundance of amenities, they are truly some of the best lakes in the Pacific Northwest.