5 Best Amenities in West Hills Portland: Luxe Homes, Outdoor Fun & More
Posted by Alicia Smith on Monday, September 26, 2022 at 11:34 AM
By Alicia Smith / September 26, 2022
Comment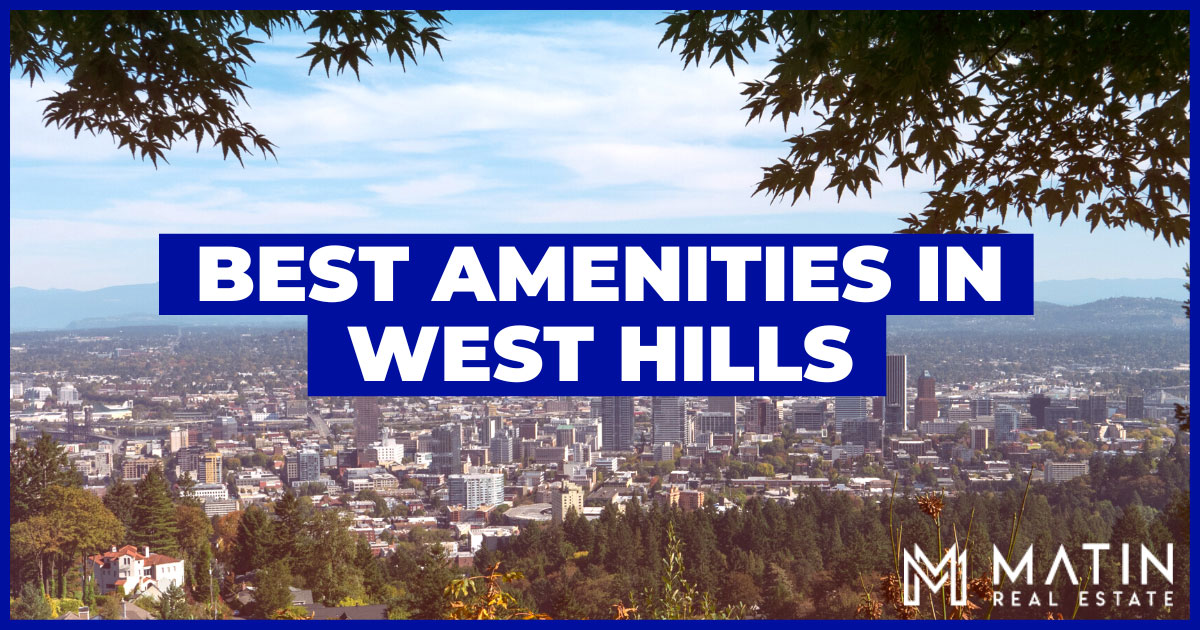 West Hills is a picturesque neighborhood nestled into the Tualatin Mountains in southwest Portland, Oregon. This primarily residential area has the benefits of being close to downtown Portland while surrounded by some of the most beautiful outdoor spaces in the Pacific Northwest. Many of the best reasons to live in the West Hills neighborhood also make the city of Portland a great place to live.
Outdoor Fun is Easy to Find
The Marquam Nature Park borders the West Hills neighborhood to the southeast and Washington Park to the northwest. These protected areas form a natural boundary between West Hills and Downtown Portland. As part of the Greater Portland metropolitan area, living in West Hills means you're never more than a stone's throw away from the rugged Oregon coastline, waterfall hikes, breathtaking views of the mountains, or the iconic, historic Columbia River Gorge scenic highway.
A popular destination, 410-acre Washington Park—one of Portland's many great parks—features verdant gardens and shaded trails for all to enjoy. The parkland is home to several outdoor attractions that appeal to nature enthusiasts of all ages.
Oregon Zoo: This 64-acre zoo features over 1,800 animals spanning 230 species. Founded in 1888, it's the oldest zoo west of the Mississippi River. It attracts over 1.6 million visitors annually.
Portland Japanese Garden: A traditional Japanese garden spread across 12 acres, where visitors find it hard to believe they're in a metropolitan area. The Portland Japanese Garden has been listed among the finest in North America.
Hoyt Arboretum: Open all year and free to the public, this 189-acre arboretum is perched on top of a ridge of the Tualatin Mountains, west of downtown Portland. In addition to the spectacular scenery, visitors can explore 12 miles of hiking trails.
International Rose Test Garden: Considered one of the city's main attractions and the reason behind Portland's "City of Roses" nickname, this garden boasts over 10,000 rosebushes in approximately 650 varieties. They bloom between April and October, usually peaking in June.
There's No Shortage of Luxury Homes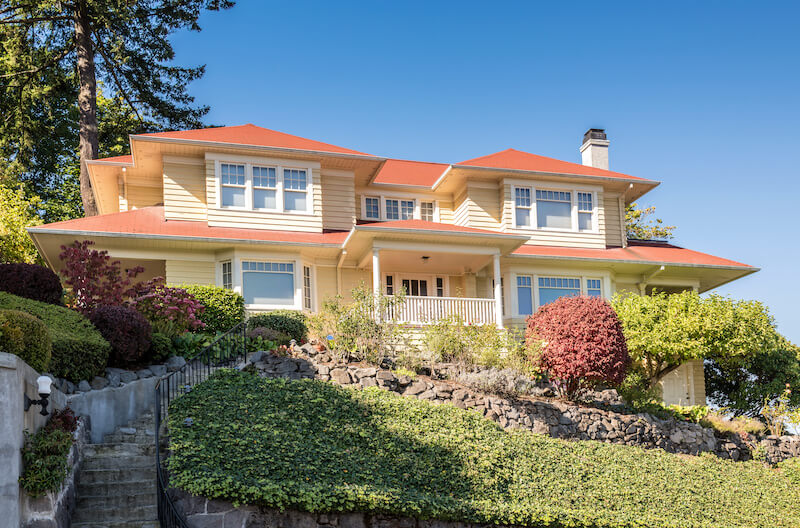 West Hills is the place to be if you enjoy scenic views, an unbeatable location, and you're considering luxury homes in Portland. On the west side, residents enjoy rolling, heavily-forested hills. On the east side, downtown Portland and Mount Hood are the undeniable stars of the show. This area of southwest Portland is noted for its abundance of luxury homes, rural feel, and convenient access to the city's main business district.
Many of the houses in West Hills were built in the early 1900s. They cover a range of architectural styles, including Colonial, Tudor, Craftsman, Bungalow, English Cottage, Ranch, Mid-Century Modern, and custom-built homes. Three-bedroom ranch-style homes list from the $300s, with the most expensive properties topping $4 million.
In addition to single-family homes, many of Portland's condos for sale are available in West Hills, and retirement communities offer plenty of walkable outdoor space. Most homes have small, easy-to-maintain front and backyards with lush grass and mature trees.
Everyday Conveniences are Just Around the Corner
When choosing a place to live, there's more to consider than the economy, weather, and housing. Having quick, convenient access to everyday places, such as eateries, shopping, education, medical care, and other vital services is crucial.
Fortunately, West Hills residents don't have to leave the area to enjoy restaurants and shopping. The neighborhood includes several shopping hubs with various eateries covering various types of cuisine, including American, Indian, Italian, Mediterranean, Thai, and Vietnamese. Locals and visitors can also enjoy food and beverages from local breweries, pubs, and specialty grocery stores.
West Hills residents are served by Portland Public Schools, Oregon's largest school district. The district serves kids from pre-Kindergarten through 12th grade, offering several language immersion programs at various schools around the neighborhood. The area is also home to private schools, including West Hills Christian School (Kindergarten through 8th grade) and West Hills Montessori School (15 months through age 12).
Easy Access to Downtown Portland
Driving in Portland can take time—the commute between many Portland area communities and the city's core business district can average over an hour. In contrast, most West Hills residents can get to downtown Portland in less than 10 minutes. Shorter commutes offer several potential benefits to residents, including:
Fewer hours each week sitting in traffic, meaning more time for activities that promote health and happiness
The feeling that life and work are more balanced
Reduced environmental impact
The economic outlook for Portland, Oregon, also remains strong. Its location offers several advantages for businesses, including low energy costs, accessible resources, proximity to east-west and north-south interstates, intercontinental railroads, international air terminals, and extensive marine shipping facilities. Intel, Nike, Schnitzer Steel, Daimler, and Adidas are just some of the major corporations with headquarters or significant operations in the greater Portland area.
The Pacific Northwest Climate is Mild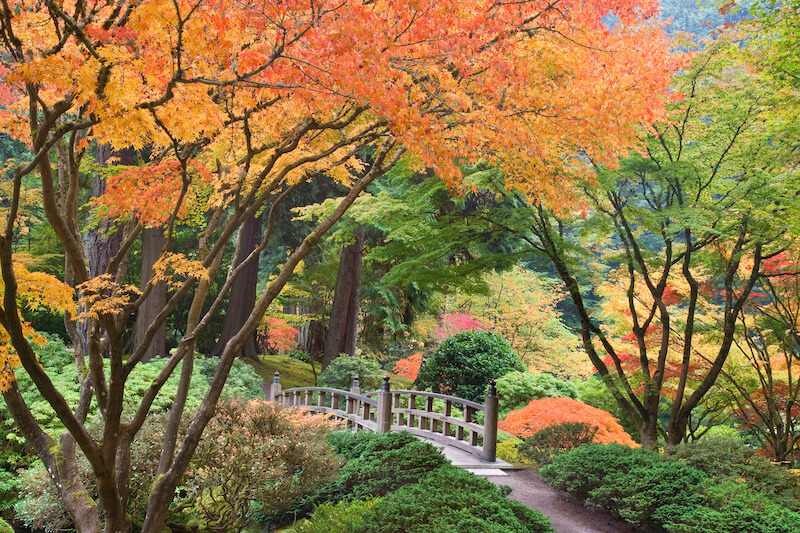 Portland's climate is considered warm-summer Mediterranean, which usually means warm and dry summers. Winters in the area are generally cold and include more rain than snowfall (this is the famous Pacific Northwest, after all). However, West Hills residents typically see more dustings of snow due to the neighborhood's higher elevation among the Tualatin Mountains. As a West Hills resident, you can look forward to mild weather with temperatures ranging between 36–84ºF year-round.
The warm season occurs between June and September and lasts about three months. August is usually the warmest month of the year, with an average high of 83 degrees and an average low of 57 degrees. The cold season lasts just over three months, between November and February, and December is the coldest month of the year, with an average high of 45 degrees and an average low of 36.
While it does rain frequently in Portland, the vast majority of the time, it's a short-lived drizzle. The official rainy season lasts from October to April, with peak rainfall usually occurring in the autumn or winter.
With its mild temperatures and beautiful weather, it's no wonder there are so many great outdoor activities in Portland!
Come See Why West Hills is Right for You
West Hills is a wonderful place to live for many reasons, including beautiful outdoor spaces, short commutes, a strong economy, and a wide variety of homes. There aren't many places where you can experience immersive natural scenery while also being less than 10 minutes from downtown, so if you're considering a move to Portland, give the West Hills neighborhood a look. With four seasons to enjoy and nearby shopping and hiking, there's no shortage of things to see and do in this corner of Portland, Oregon.
Thinking about moving to Portland's West Hills neighborhood? Contact Matin Real Estate at (503) 622-9601 to get in touch with a local real estate agent and find your dream home in West Hills today.