8 Affordable Condos in Portland: Budget-Friendly Portland Lofts & Condos
Posted by Jordan Matin on Thursday, October 19, 2023 at 9:16:57 AM
By Jordan Matin / October 19, 2023
Comment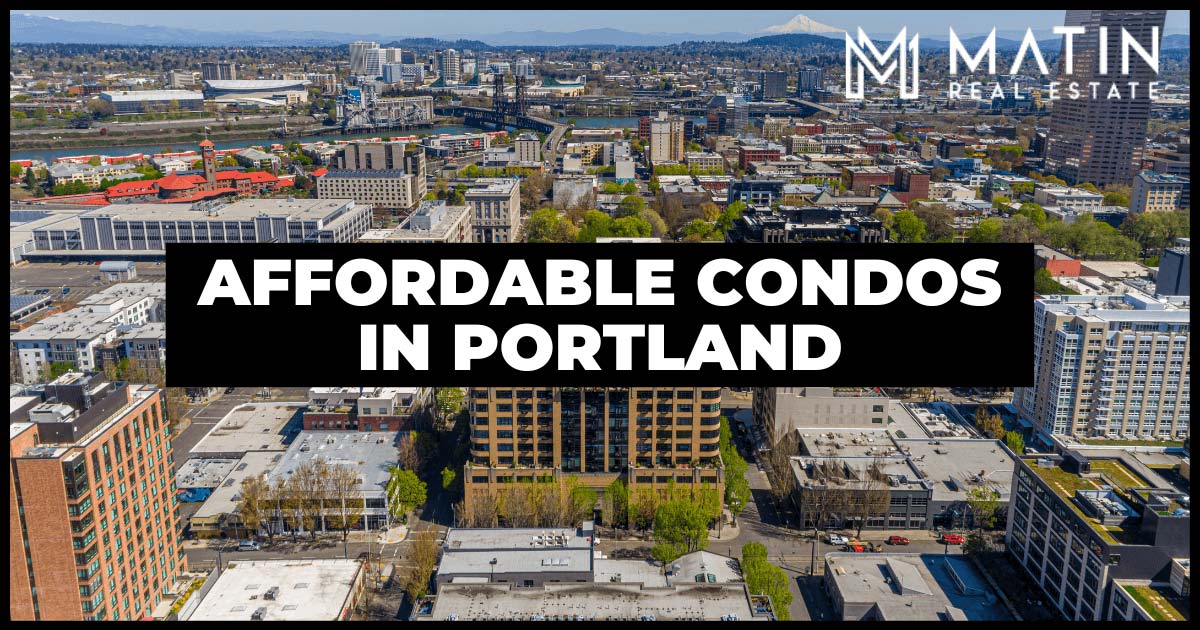 In the heart of the eclectic city of Portland, Oregon, lies a wealth of condominium neighborhoods offering affordability and urban charm. As prospective homeowners seek to find their place in the vibrant and diverse landscape of the city, identifying the most cost-effective condo neighborhoods becomes paramount.
This article will unveil the hidden gems within Portland's real estate market, showcasing neighborhoods that provide affordability without sacrificing the unique character and amenities that make Portland such a great place to live. Whether a current resident exploring options or a homebuyer moving to Portland, be sure to give these affordable condos in Portland a look.
The Cornerstone
The Cornerstone at the corner of SW Jefferson Street and SW 12th Avenue is in the cultural heart of Downtown Portland.
Within a three-block radius of the building, one can find the Portland Art Museum, The Old Church Concert Hall, the Newmark Theater, and the Arlene Schnitzer Concert Hall. Shopping and dining are also within walking distance. On the ground floor, there are tenanted retail spaces. Residents can walk to the Saturday Portland Farmer's Market along the South Park Blocks.
This midsize building is perfect for homeowners who want a great location without paying high-rise fees. The Cornerstone does have basics like a laundry room, secure bike storage, and secure building access.
Units average around $498 per square foot. There are one-bedroom and studio units, both thoughtfully laid out. Homes in The Cornerstone typically list from the mid-$100s to the mid-$200s.
The floors are hardwood, and many units have bathrooms and kitchens remodeled since the building opened in 2000. The brick facade of the building is complemented by metal-framed bayview windows and a large overhanging roof, giving it the appearance of a Tribeca cast-iron mixed with the Frank Lloyd Wright prairie-style.
The Cornerstone Amenities
Hardwood Floors
Next to Safeway for easy shopping
Some units have bayview windows
Unparalleled proximity to the Art Museum
Irving Street Tower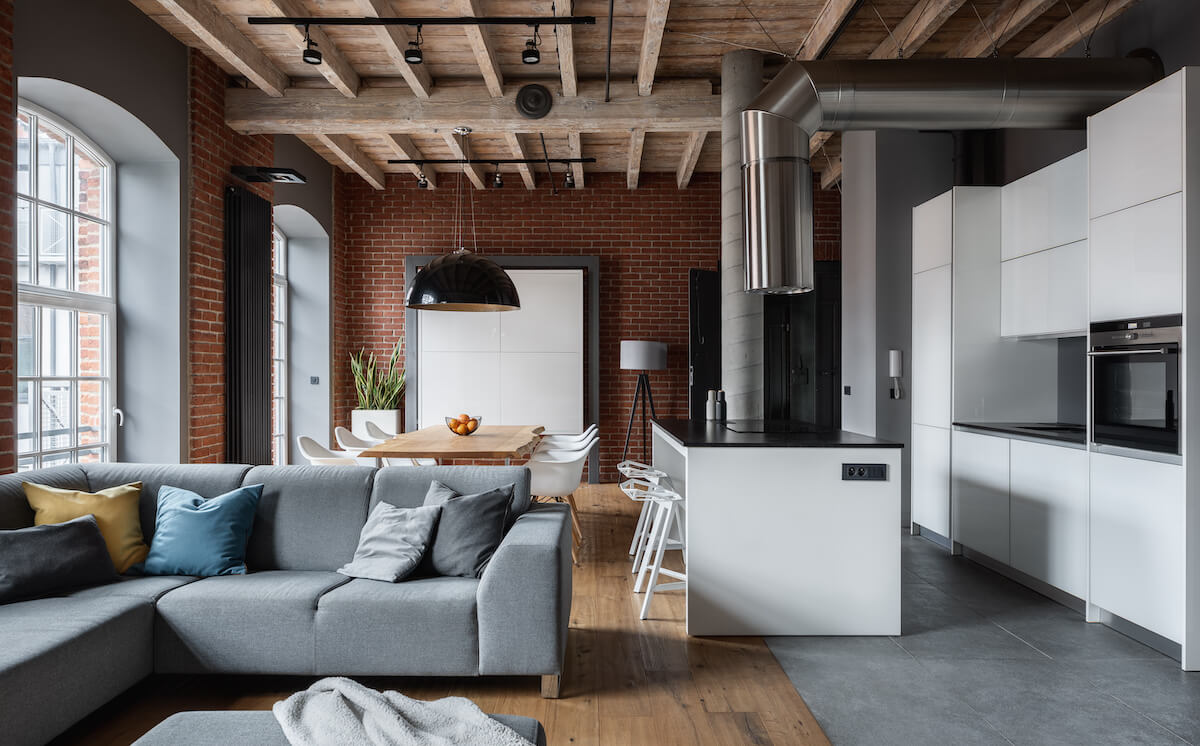 Irving Street Tower, the historic four-story low-rise, resides along NW 21st Avenue, between NW Johnson Street and NW Irving Street. Irving Street Tower was built in 1910 and converted into a condo building in 2007. Refurbished units contain unique touches like tastefully exposed brick walls, hardwood floors, and custom cabinetry.
There is a range of options from one-bedroom studios to large units with two floors—a floorplan that is difficult to find in the condo market, especially at this pricing point. Condos in the Irving Street Tower typically list in the low $200s, which translates to around $309 per square foot. In all, Irving Street Tower is very comparable to Royal Arms, which is actually just a few blocks to the northeast.
The near-identical appearance of their respective facades alludes to the development of this neighborhood at the turn of the 20th century. Part of the appeal of Northwest Portland lies in its blend of residential and retail structures.
Single-family homes and low-rise apartments and condos are next to restaurants, shops, and entertainment venues—a type of walkable zoning that is hard to find. Irving Sreet Towers is across the street from a Cinema 21 theater—not to mention Coffee Time, Bea Thai, Twenty First Avenue Kitchen & Bar, and Scottie's Pizza Parlor.
Irving Street Tower Amenities
Walkable dining options
Tree-lined, historic neighborhood
Commuting Proximity to Downtown Portland
The Royal Arms
The Royal Arms is perfect for homeowners seeking a building with character without compromising on modern convenience. This low-rise brick building at the corner of NW Lovejoy Street and NW 19th Avenue in Portland's Pearl District is a genuine brick facade masterpiece from 1915.
Much like the skyscrapers of that era, the Royal Arms models an Italian palazzo—with a pronounced, ornamental cornice and a small but intriguing central courtyard that leads to the main entrance.
The Royal Arms Condominiums range from 300 to 600 square feet and around $165,000 to $255,000. Each unit features an in-suite washer and dryer, with many additionally boasting updated amenities, balconies, oversized kitchen islands, and custom shelving.
The Pearl District is a neighborhood of bars and restaurants that have breathed new life into red-brick and steel industrial buildings—punctuated by mid- and high-rise Portland condos. Northwest is a rarely-seen enclave with single-family homes interspersed with retail, dining, and entertainment venues—all along tree-lined streets.
Royal Arms residents enjoy the best of both worlds, as the building is within walking distance of both neighborhoods and has easy access to Portland's public transportation options.
The Royal Arms Amenities
Historic charm
Some units have balconies
Units remodeled with modern designs
Easy access to the Pearl and Northwest
Eleventh Avenue Lofts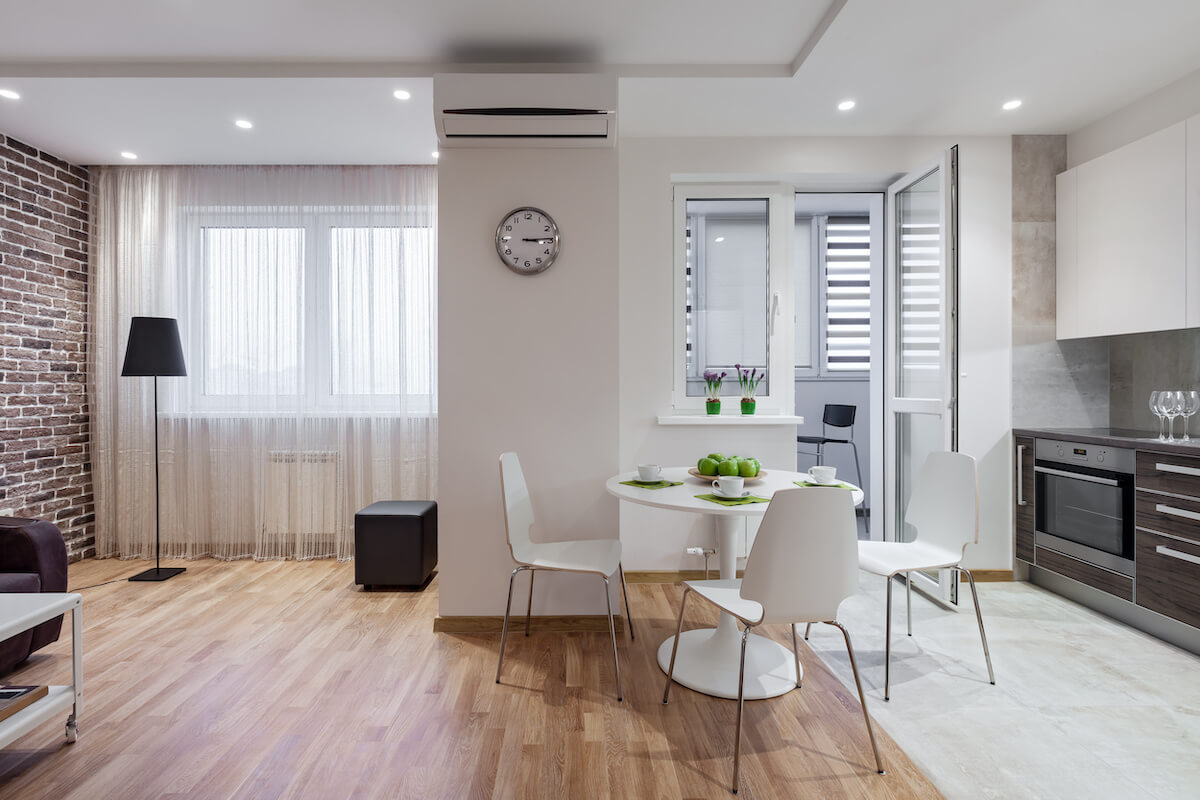 The fittingly named Eleventh Avenue Lofts rests at the corner of SW 11th Avenue and SW Columbia Street—just on the edge of Portland State University. The Old Church Concert Hall is one block over, and the South Park Blocks and the Portland Farmer's Market are also nearby.
Its proximity to such an institution and its weekday student foot traffic could spell chaos, but this low-rise building is in a tree-lined residential zone close enough to excitement yet far away enough to afford quiet.
The historic building, built in 1903, boasts a white brick facade and a stone base. Interior units have open floor plans coupled with craftsman touches and trim. Many feature wood-burning stoves, a unique and charming touch you won't find in other buildings.
The one-bedroom, one-bathroom condos in Eleventh Avenue Lofts typically list for around $200,000 and feature around 500 square feet of living space. The building features an elevator and secure storage. This building is perfect for homeowners seeking historical charm and walkability.
Eleventh Avenue Lofts Amenities
Interior craftsman touches
South Park Blocks and Farmer's Market
Portland State University in walking distance
Cardinell View Lofts
It's not often that a mid-rise building can afford sweeping views. However, due to its unique location in Goose Hollow—one of Portland's most walkable neighborhoods—Cardinell View Lofts offers excellent views of Downtown Portland. SW Cardinell Drive carries you right into the neighborhood around Portland State University.
The South Park Blocks and numerous nearby cultural attractions are also within walking distance. Washington Park—widely considered one of Portland's best parks—is two miles away and is home to the Oregon Zoo, Japanese Garden, Children's Museum, and other attractions.
The building, originally built in 1951, was extensively remodeled in 2007—so it has a vintage Bauhaus exterior (complete with corner windows) and contemporary interiors.
The 58 units offer studio and one-bedroom options ranging from 390 to 600 square feet. Flexible floor plans are open—blending kitchen and living spaces—and feature large windows that provide ample natural light.
Each unit has a stackable washer-dryer unit to maximize storage space. The median list price of these units is around $200,000, which is affordable for the Goose Hollow neighborhood. Outdoor deck space on the top level offers a pleasant space for get-togethers with a city view.
Cardinell View Lofts Amenities
In-unit washer-dryer
Units have incredible city views
Walking distance to cultural attractions
Extensive remodeling that preserved the 1950s facade
Lexis on the Park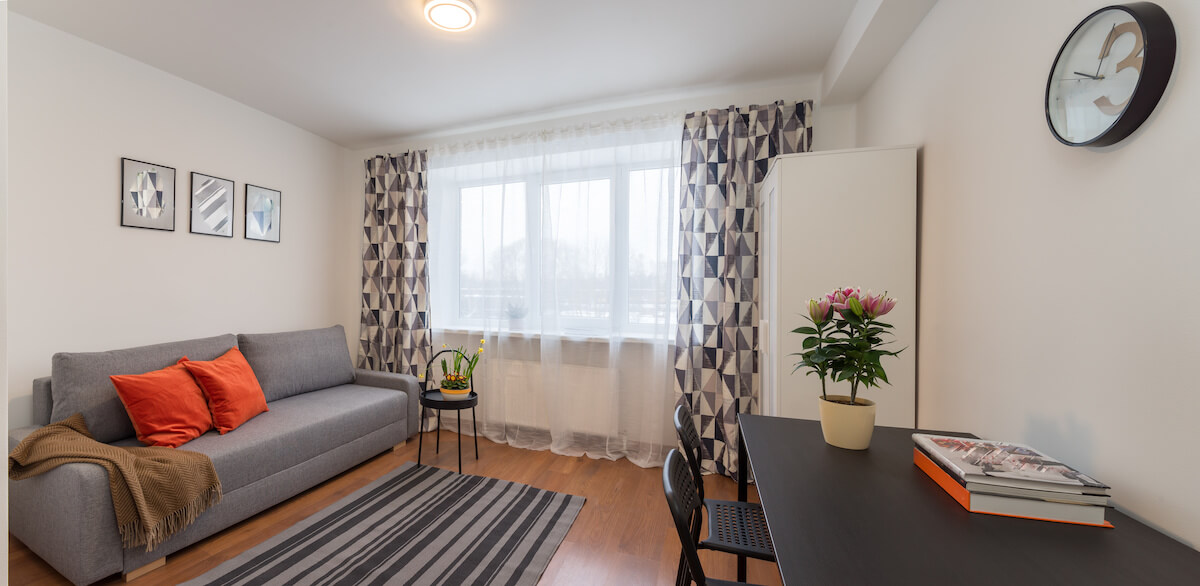 Lexis on the Park is aptly named for its location across from Tanner Springs Park, right in the heart of the Pearl District. This location makes it perfect for accessing many of the things to do in Portland. While many buildings in its pricing point fall into the historically charming category, Lexis is unique in that it was built in 2004, making it perfect for homeowners who need a modern, contemporary environment.
The average price per square foot is $370. Units contain cherrywood cabinetry and stainless steel appliances. Homes in Lexis on the Park typically list from $200,000 to the high $400s. Unlike many other affordable condo communities in the city, Lexis on the Park also offers two-bedroom units. A meeting room, community room, fitness center, and outdoor courtyard provide communal gathering spaces for residents.
The location of Lexis is excellent, especially for residents who want to take advantage of nightlife and weekend living. Restaurants and bars are your oysters in the Pearl. A Marriott across the street provides a convenient meeting place for work or weekend visitors.
Those who love outdoor spaces will enjoy city-square-parks like Jamison Square and Tanner Springs, and pet owners will especially enjoy the Fields, which boasts an off-leash park. Lexis on the Park is just a few blocks from the Willamette River Greenway Trail, so residents can easily enjoy some of the best hikes in Portland just outside their doors.
Lexis on the Park Amenities
Fitness Center
Walkable nightlife
Pet-friendly parks
Proximity to River Greenway Trail
Envoy
The Envoy has one of the more unique facades among Portland condos. Its stucco facade has subtle hints of Mediterranean revival and almost seems like a bit of Hollywood set down in Northwest Portland. Indeed, the historic building dates to 1929, the heyday of such stylistic indulgence. All units underwent updates in 2005, with many including ground-floor and designated garage spaces.
There is a wide range of pricing for this eight-story mid-rise. Due to the low-lying retail that surrounds it—and its elevated position at the foothills of the Arlington Heights neighborhood—the Envoy rises over the neighborhood and offers excellent views to its residents.
The median list price for homes in the Envoy is around $680,000 at $476 per square foot. However, prices range from around $300,000 to $3 million for a penthouse. This building is perfect for homeowners seeking historic charm with various pricing and size options.
Behind the Envoy, forested trails lead up to Washington Park. In the other direction, residents can pop into Zupan's Market, a family-owned grocery store selling meat, flowers, wine, and more.
Envoy Amenities
Wide pricing range
Beautiful revivalist facade
Next door to Washington Park
Easy dining and shopping options nearby
Cascadian Court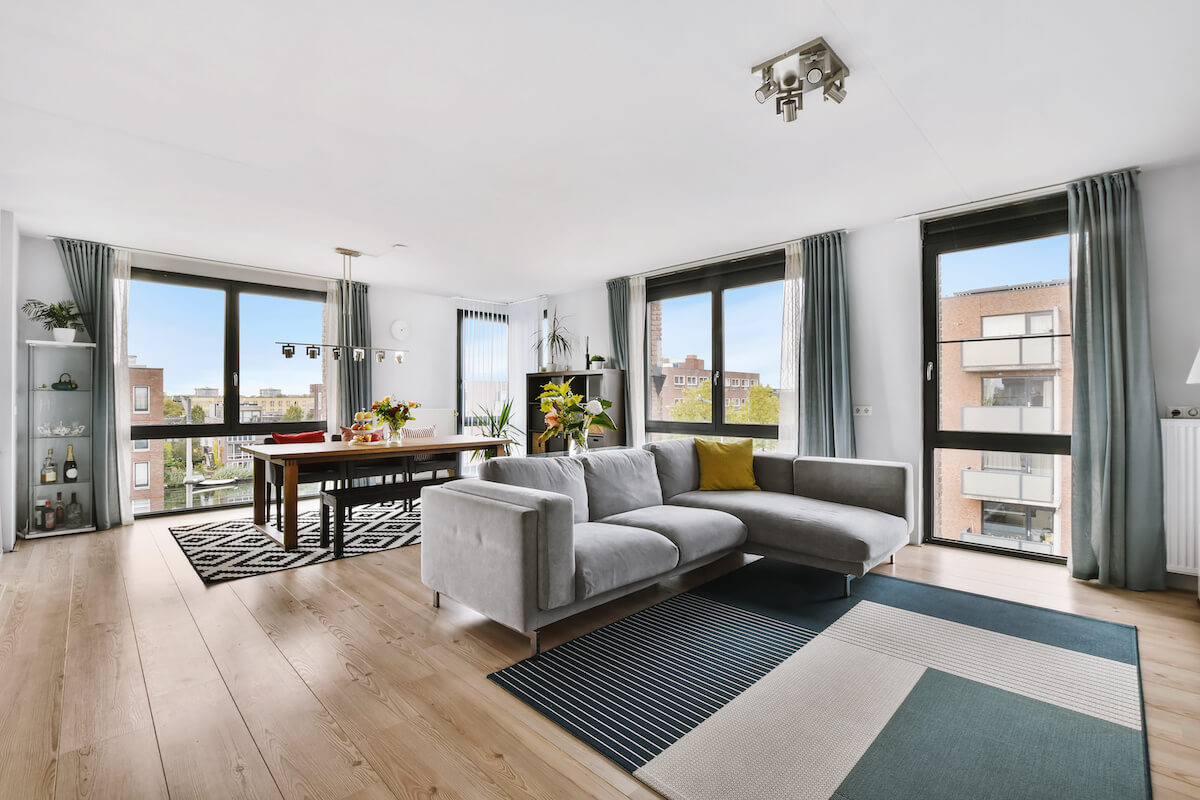 Cascadian Court is just across the Willamette River in Northeast Portland, specifically the Lloyd District. The Oregon Convention Center and The Moda Center are within walking distance, as are several hotels, including the Hyatt, Marriott Courtyard, and Hilton Doubletree—signs that this area is a revitalized, exciting enclave of the PDX.
Holladay Park is a pleasing outdoor space right across from the indoor mall of Lloyd Center. The Burnside Bridge is half a mile away, making Portland Saturday Market (and Old Town) a possible weekend excursion, even on foot.
This nine-story mid-rise building was built in 2002 and boasts private balconies, in-unit laundry hookups, gas appliances, and a communal outdoor rooftop deck on the second floor. Despite its modernity and rare in-unit amenities, the average list price for homes in Cascadian Court is around $300,000.
Cascadian Court is a great option for homeowners interested in living slightly outside the action of Portland proper, for arguably more space and a modern ambiance.
Cascadian Court Amenities
Balconies
Rooftop deck
Spacious square footage
Walking Distance to Lloyd Center Shopping Mall
Discover Affordable Portland Condo Living
The quest for affordable condominium living leads homebuyers to condo communities in some of Portland's best neighborhoods. From their diverse cultural influences to their proximity to the city's pulse, these areas offer budget-conscious buyers a chance to call Portland home. While the city continues to evolve, these affordable condo neighborhoods remain steadfast in their appeal, promising an urban lifestyle that embraces the essence of Portland without breaking the bank. As the city marches forward, these neighborhoods stand as a testament to Portland's commitment to inclusive and accessible living spaces.