3D Wall Panels Add Depth to Rooms When Selling
Posted by Jordan Matin on Tuesday, November 3, 2020 at 7:01 AM
By Jordan Matin / November 3, 2020
Comment
If you want to create a trendy "wow!" factor when updating your home or preparing it for sale, consider installing three-dimensional (3D) wall panels or "wall art."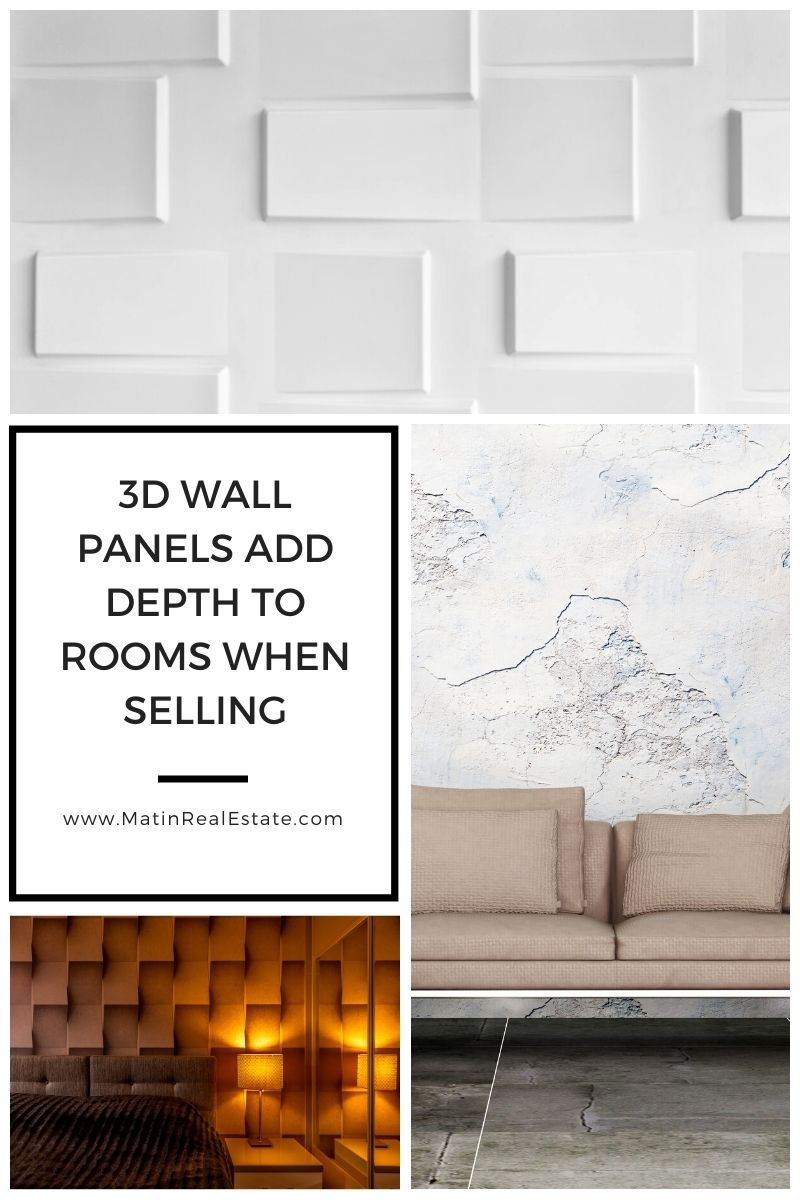 Giving the impression they are sculpted onto a surface, the panels can cover all or a portion of a wall. Light and shadows reflecting from the "hills and valleys" created by 3D wall patterns and designs can create a stunning effect in any room in a home, office or public place. Versatile dimensional wall art can be used on any surfaces that need covering including ceilings and cabinets.
Today, wall art featuring textured panels of undulating 3D wave patterns are very much in vogue. Also popular are abstract geometric designs. An alternative to flat panels, the dimensional panels are usually single pieces of material cut into a rectangular shape. Most 3D panels can be painted.
Wall panels are manufactured from of an array of lighter weight materials including fiberboard, faux leather, faux stone, engineered wood, bamboo, plastic polymer (PVC) and vinyl. Heavier panels can be metal or even cement. A new environmentally friendly 3D wall panel is constructed from the fibrous residue of sugarcane.
Offering abundant design choices, the panels can be self-adhesive or applied to the wall with glue or nails. For do-it-yourselfers, "peel and stick" self-adhesive squares in a variety of sizes can be combined to create a pattern that dramatically transforms a living space.
In more and more new homes, 3D wall panels and tiles also are emerging as popular options to mosaic tile backsplashes in kitchens and bathrooms.
Besides covering entire walls, smaller sized dimensional art can add pops of color and interest to a room's walls. For example, putting 3D art inside a picture frame attached to a wall can add extra interest and beauty to a room's ambiance.
Gone are the days of the dreary brown paneling that decorated walls in the sixties and seventies. In its place is a never-ending assortment of 3D wall panels and wall art that imbue creativity and innovation into today's interior surroundings.
If you're ready to list your Portland home, give me a call. I'd love to go over specifics with you on how to stage and price your home in today's unique market. Contact me below or simply give me a call at any time.