11 Best Pizza Places in Oregon
Posted by Jordan Matin on Friday, May 28, 2021 at 12:34 PM
By Jordan Matin / May 28, 2021
Comment
If you want to have one of the tastiest Pizzas on the planet, the American dream is a place to be. They make everything from scratch and source ingredients locally. The many positive reviews by those who have visited the place have made it ranked high.
The way they make Pizza is just excellent. From long-fermented dough to hand-stretched mozzarella. Their Pizza is wood-fired oven pizza which is Italian-inspired with an American accent. It is available in 12-inch size and 18-inch size.
Perfect ingredients, cheese, sausage, and olive ingredients make up their tasty Pizza. So, if you want to have crazy delicious Pizza with good ingredients and crust, Coburg Pizza is your place.
East coast style, thin and crispy with nicely spread toppings, is their pizza definition.
Their Pizza is categorically classic Neapolitan in style, baked in wood-fired ovens. The wood-fired ovens will make the pizza crust perfectly charred with black bits but still chewy.
Chicago-style pizza lovers will converge here. They make thin crust pizza with main Ingredients as gooey cheese and rich tomato sauce.
Spices: bitter lettuce and crunchy carrots. It is crispy in the bottom and with enough toppings to keep the whole Pizza balanced. Nothing more to say about it, but it is delicious.
This is New York-style pizza topped with bunk sandwiches. The Pizza is close to Vegan with no milk and no eggs, but it remains one of the tastiest pizzas on the planet.
Lovely fifty-fifty offers the best pizzas that are 100% made of local flavors and unexpected combinations. The crust is naturally leavened, made with organic Oregon-grown wheat, and the toppings are just creative of marinated baby artichokes with melted onions and chives of Yukon gold potatoes.
The company has been known for making Pizza since 1988 and based on their experience, and you can guess how perfect their Pizza is. Their Pizza is thin and crispy and loaded with cheese toppings. Their Pizza is so delicious to mention.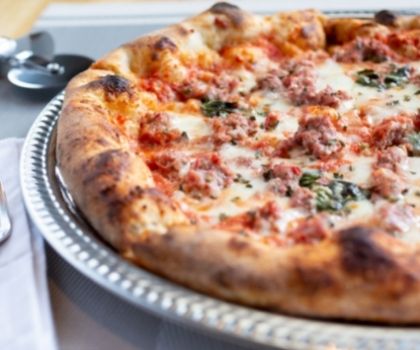 Their pies are giant New York-style pizza with gourmet dough, sauce, and cheese made locally. Have one piece, and you will not forget the experience.
More Great Things to Do in Portland: