10 Ways to Boost Your Fall Curb Appeal
Posted by Jordan Matin on Tuesday, October 13, 2020 at 2:32 PM
By Jordan Matin / October 13, 2020
Comment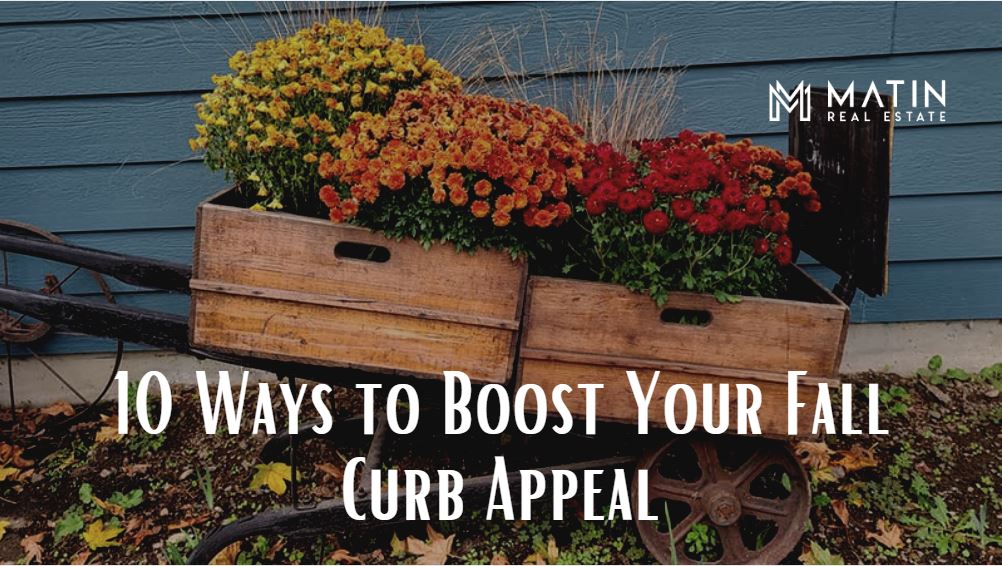 If you've been putting off selling your home or the time just wasn't right but now you need to sell quickly and fall is here and winter is approaching, you're probably doing as much as possible to appeal to any type of buyer, boost your curb appeal, and increase the value of your home.
That might be hard to do this time of year. Leaves are falling creating a soggy mess, the weather is anything but sunny and warm, and deciduous trees and bushes start to look a little bear. So how can you boost your fall curb appeal to attract homebuyers? That first impression can make or break the sale and it definitely entices buyers to see more or run the other way. You have one chance to create the perfect first impression and because most main photos of a listing include either the front of the house or the view from the house, you need to make that first impression stick out as a memorable one… And not a poorly memorable one.
Home Staging for the Outside
Curb appeal is an extension of home staging. Not only do you need to stage the interior of your home but the exterior is well and you can't neglect the backyard. Just because a lot of people won't see it, doesn't mean that you should neglect that backyard maintenance. You'll want to keep that landscaping on point.
Remember, buyers are picky and if they notice one spot out of place they might think you're trying to hide other flaws. Of course, that's not every buyer, but if you have the time and resources, it definitely helps to stage your backyard and your front yard. But let's focus on the front yard where curb appeal is most prominent. Here are 10 ways to boost your fall curb appeal to attract more buyers and get a faster sale.
#1. Ease up on the pumpkins
I get it… You like pumpkin spice. You are first in line at Starbucks for the PSL but that doesn't mean your front yard should look like the great pumpkin threw up all over it. There is such a thing is going overboard on holiday decorations and remember, you're planning on selling your home anyway; don't put so much effort into decorating it if you just have to pack it up. You want something that's tasteful, clean, and does not obstruct the front door.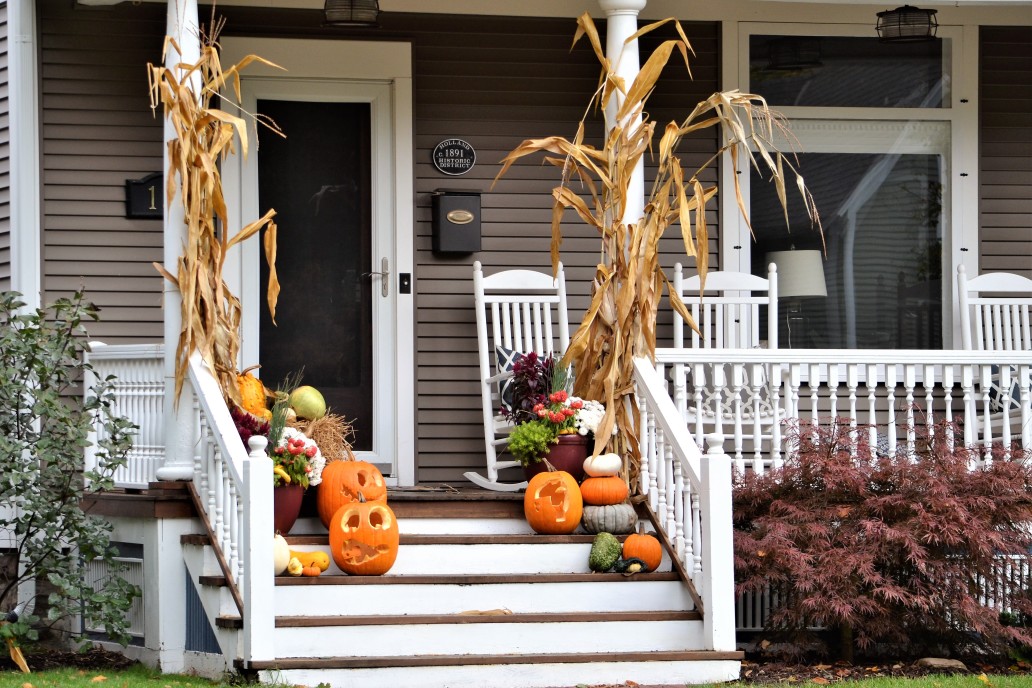 When buyers visit your house they will need space to stand in front of the front door while the agent retrieves the house key. If there's nowhere to stand because the front porch is inundated with bales of hay, pumpkins, and that the scarecrow decoration from Hobby Lobby, they're going to be more concerned about the crowding then actually looking at the home itself.
You want buyers to look at the house, not your decorations. While it might add to the charm, a simple front door holiday-themed wreath might suffice. If you have little ones, they may be begging to carve pumpkins so as long as those pumpkins are fresh from the carving table or haven't been touched by little fingers and pumpkin shaped carving tools yet, it's best to leave those pumpkins for when the house sells… Or at the very worst, next year. The last thing any buyer wants to see at the front door is a droopy, moldy, half-carved jack-o'-lantern.
#2. Replace summer flowers and plants with fall ones.
Mums, beautiful pansies, and ornamental kale plants can add a vibrant pop of color to your front yard. If you have annuals or perennials that might be dying out, it's time to dig up those bulbs (especially if you want to take them with you) and plant things that are going to add charm and curb appeal for the season.
Try not to go overboard with the colors. If you buy every color mum or pansy at the store, it's going to look somewhat messy so stick to one color and combine it with a couple of evergreen shrubs of various sizes. Ornamental grass that will last through fall, kale, and flowers of the same color will add a dramatic pop.
#3. Trim and prune.
With so much that goes on to prepping a house for sale plus the added stress of packing and finalizing where you're moving to, the last thing you want to worry about is landscape maintenance. Now might be the time to hire a weekly landscaper to attend to the front and even the backyard until the house sells. They can trim, prune, and make sure that plants and shrubs are away from the house to allow for easy access for upcoming home inspections.
#4. Lawn maintenance.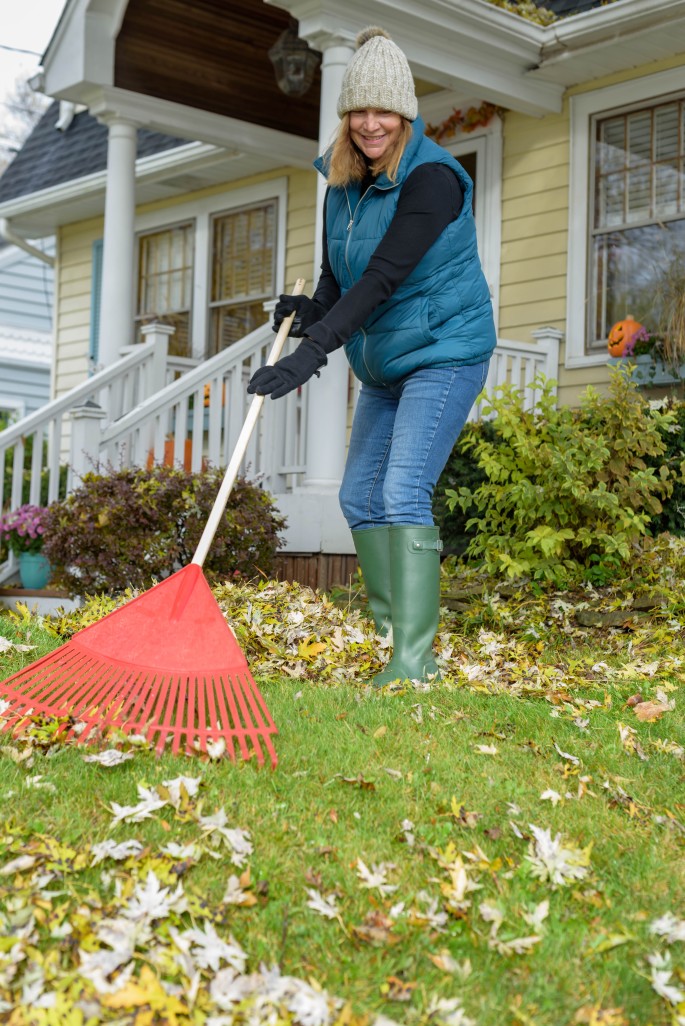 If your lawn is suffering from the harsh heat of summer, visits from neighborhood dogs, or bare patches, it's time to bring that lawn into its fall beauty. Consider de Thatch the lawn, and irrigation blowout before the winter sets in, and give it a good dose of nitrogen to brighten up the green color. Again, having a landscaper handle all of this is one of the best ways to take the pressure off of your shoulders during this sometimes stressful time. Lawn maintenance can keep the lawn mowed, trimmed, edged, and fertilized at just the right time.
#5. Pressure wash sidewalks and driveways.
Fall foliage isn't the only item that needs tending. Make sure you pressure wash any fences, sidewalks, patios, decks if necessary, and driveways to dispel any weeds, grime, moss, and mold that we here in the Pacific Northwest know a great deal of. If necessary, hire a professional pressure washing company to take care of this while your home is on the market.
#6. Consider repainting.
Depending on how long it's been since your home has been repainted, now is the time to touch up the front door, trim, and maybe a full-on paint job if necessary. If you have boards that are rotting, paint peeling off the siding, or gouges in railings and stairs, it's time to put a little TLC into the exterior of your home. Buyers might not notice, but they will notice if you don't take care of it.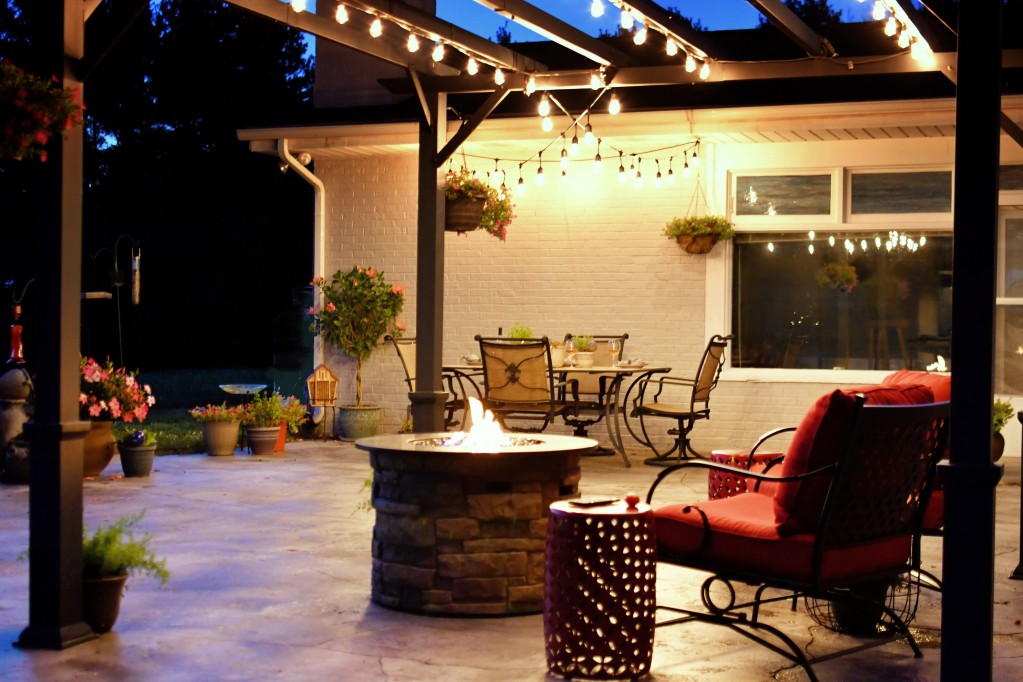 #7. Invest in good lighting.
You don't have to spend a fortune on underground wiring and electrical lights but a little bit of light, even from solar lights, can direct buyers to the front door in the evenings. The sun is setting about 6:00 to 7:00 PM and many buyers may still want to take a look at homes in the evening after work. The last thing you want is for them to trip or fall because they can't see where they're going. Adding some simple lighting directing them to the front door not only is charming, but it offers a safety component as well.
#8. Keep up with those leaves.
If you're like a lot of portly Indians, you probably have a good mix of deciduous and coniferous trees in your front and backyard. Unfortunately, those deciduous trees are likely to leave a litter of mess on your lawn and walkways. Unfortunately, you'll have to keep up on those as buyers don't want to see a lot of leaf litter sprawled out across the lawn. Your curb appeal will look more neat, tidy, and put together if you stay on top of raking leaves.
#9. Add mulch.
A good dose of mulch that matches the environment always adds not only a pop of color but cleanliness and fresh landscaping. Try not to use artificial colors such as bright red, rubber, or tones that don't match the Pacific Northwest. Buyers want to see something that fits into the environment so some simple mulch or compost around trees, and flowerbeds, and around bushes can work wonders for curb appeal.
#10. Don't forget the mailbox and/or lighting fixtures.
Is either of these two items old, rusty, and dingy? Now is your chance to update an old mailbox to a newer, more modern design and lighting fixtures that all match, and fit the style of the home. This is also a good time to spruce up the address numbers of the house. Not only is it a safety issue for emergency vehicles, but buyers and agents can easily find the house.
Every home is unique and when it's time to sell your Portland or Southwest Washington home, there may be some tips and features to really emphasize curb appeal and design of your house. Let the Matin Real Estate Group provide expert service, get top dollar for your home, and sell it fast.
Want to know what your home is currently worth? Contact me below and let's find out!